Disney Announces New Personal DVD Players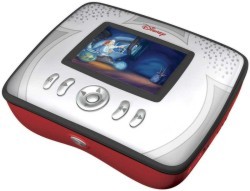 BURBANK, Calif. - April 26, 2005 - With summer just around the corner, Disney Consumer Products is expanding its popular line of electronics for kids, with new portable DVD/CD players ideal for summer fun and family outings. Available in a variety of styles and character-themed designs for kids of all ages, including Mickey, Disney Princess and Power Rangers, the new Disney Personal DVD Players are format-friendly and can play DVDs, CDs, mini-discs and more. The new players will be available this month at retail outlets nationwide.
"Kids have made it clear that they want products that are fun, cool, creatively designed and highly functional," said Chris Heatherly, global VP of Disney Electronics. "The new Disney Personal DVD Player is a perfect example of this. Unlike similar players in the market that require the purchase of customized discs, the Disney Personal DVD Player supports an array of media formats, providing kids with a vast library of entertainment at their fingertips."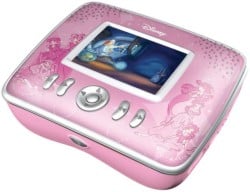 The new Disney Personal DVD Player is already garnering rave reviews from leading industry analysts. Sean McGowan, managing director of Harris Nesbitt, said, "The trend in the kids market is all about electronics, miniaturization and a lot of power in their hands. But they don't want dumbed down versions of adult products. The Disney personal DVD player speaks to kids on so many levels. It's a great value. It's portable, fully functional, easy to use and it's something their little hands can handle. It's a home run."
Compact, rechargeable and easy to use, the new Disney 3.5" Handheld Personal DVD Player is available in a variety of styles, including Classic Disney (red/white), Ink Style Mickey (vintage comic book look), Disney Princess, Power Rangers, and a "Flower Power" style with a pink and purple design for 'tween' and teen girls. Also available is a larger 7-inch model with an open-and-close clamshell lid for personal or family use; the red lid features Mickey's iconic mouse silhouette.
For a limited time only, the Disney Personal DVD Player will include a bonus DVD valued at $14.99 featuring favorite Disney Channel shows "Phil of the Future," "Brandy & Mr. Whiskers" and "Proud Family" -- each on DVD for the first time. The new players will be available at major retailers nationwide, including Best Buy, KMart, Sears, Target, Toys 'R' Us, Wal-Mart and http://www.Disneydirect.com , at a suggested retail price of $129.99 for the 3.5-inch model and $199.99 for the 7-inch model.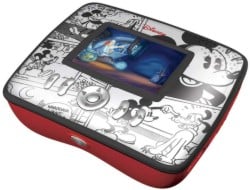 The Disney Personal DVD Players' features are as follows:
Supports DVD, audio CD, CD-R, CD-RW, JPEG images from disc and MP3 files form disc
High quality (TFT LCD) color screens
Built-in speakers
Rechargeable batteries with charger included
Two headphone jacks
Add-on accessories will be available separately and include Disney Princess Tiara or Classic Disney style headphones (SRP $14.99 each), car adapter (SRP $9.99), protective sleeve (SRP $9.99) and a carrying case for accessories and DVDs (SRP $19.99-$24.99)
Also in time for summer is the new Mickey CD Boombox. Bright red and yellow in design with Mickey ear-shaped speakers, the new Mickey CD Boombox brings magical sights and sounds to kids, with three interchangeable face plates and a 30-track programmable CD player that plays CD and CD-R/RW disks through stereo speakers. It also includes a digital AM/FM tuner with digital display and a bass boost system. The boombox uses six size "C" batteries (not included) and operates with an AC cord (included). The Mickey CD Boombox will be available nationwide at Best Buy, KMart, Sears and ToysRUs at a suggested retail price of $39.99.
The new Disney Personal DVD Player and Mickey CD Boombox are designed by Disney and manufactured by Memcorp, Inc. For more information, please visit http://www.disneyconsumerproducts.com .
About Disney Consumer Products
Disney Consumer Products (DCP) is the business segment of The Walt Disney Company (NYSE:DIS) that extends the Disney brand to merchandise ranging from apparel, toys, home decor and books to interactive games, food and beverages, electronics and animation art. This is accomplished through the work of DCP's various lines of business: Disney Toys, Disney Softlines, Disney Hardlines, Disney Publishing, Buena Vista Games and Baby Einstein. The Disney Store, which debuted in 1987, also falls under DCP, through stores currently owned and operated by unaffiliated third parties under licensing agreements in North America and Japan, and wholly-owned by Disney in Europe.
About Memcorp, Inc.
Since the early 1970s, Memorex has been one of the most widely recognized and trusted brands. Today, Memorex is an industry leader in consumer electronics, digital media and computer accessories. Memcorp, a privately held corporation, manufacturers and distributes Memorex consumer electronics. Memcorp is headquartered in Weston, Fla., with additional offices in Hong Kong, Taiwan, Toronto, St. Louis and the Dominican Republic. For more information on Memcorp Inc. and its products, please visit the company's web site at http://www.memorexelectronics.com .