DISH Remote Access - First on iPad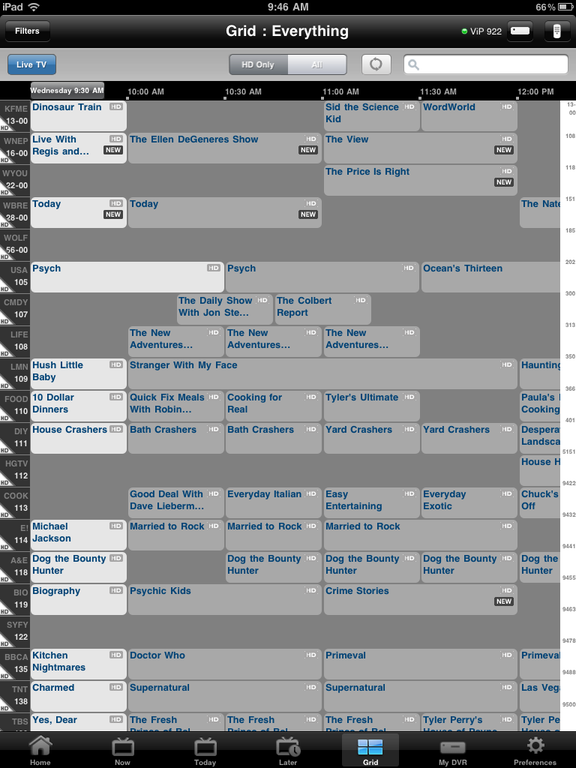 DISH Remote Access App for iPad
DISH Network kind had an epiphany today and realized that they had made some news. It turns out that DISH Remote Access, the free application that DISH Network customers can use to watch live and DVR'ed TV on smart phones, tablets and laptops, is the first app available for the iPad that facilitates this type of service. Basically, any DISH Network customer who has a broadband-connected, Sling-enabled device like the Sling Adapter or a DISH Network ViP 722k or 922 receiver can check out live TV or the contents of their DVR on the iPad.
But you can do more than just watch live TV remotely on the iPad, the DISH Remote Access app also lets DISH customers channel surf and search for new shows 9 days ahead of the actual programming. So now you can whip out your iPad or iPhone to set your DVR, record shows, manage your programs, or even use your device like a fully-functioning remote control.
The new DISH Remote Access app for the iPad is free from iTunes. For more information about DISH Remote Access, visit www.dish.com/tveverywhere.
blindcat7 posts on March 17, 2011 17:40
On top of all of the features this app has, Dish also made sure to take the small effort required to make it blind accessible. It is fully compatible with the Voiceover function that makes all of Apple's iOS devices, including all of the touchscreen devices fully blind accessible.

So, while I have yet to update to one of the receivers with Slingbox functionality I am going to start saving for one so that I can finally have a DVR that I can fully control and a program guide I can actually access.

Now if all of the manufacturers out there would do the same for their devices I would be a happy camper. An Oppo control app for my BDP-83 would be great and if the manufacturers now creating iOS apps for their A/V receivers will make sure to follow the simple accessibility guidelines Apple provides to all developers, things could be very sweet. BTW, Sonos recently released their own app and the only control that needs a little work to be fully accessible is the volume control and even that little issue has a workaround that only requires a little extra effort. Things are getting better for visually impaired HT fans. Now if we could only come up with a universal tactile label system for back panels…

Regards,

Chris
sholling posts on March 16, 2011 16:22
That's pretty cool. Verizon has a similar Android application for FIOS customers but I have yet to use it.
sholling posts on March 16, 2011 16:01
That's pretty cool. Verizon has a similar Android application for FIOS customers but I have yet to use it.
Post Reply