DISH Ushers in Free In-Flight Satellite TV on Southwest Airlines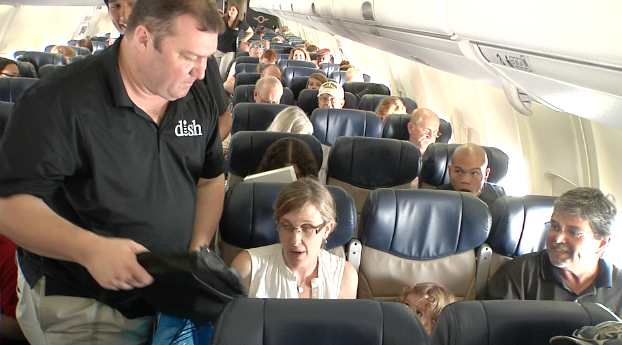 DISH offers free TV on Southwest
Southwest Air has always been a favorite of ours, but now they have an even bigger draw: free television. Beginning today (and for Southwest Customers exclusively) passengers can use their iPhone, iPad or other Internet-ready device to get free access to live TV and up to 75 on-demand shows. This new amenity is available on all of the airline's 400+ Wi-Fi-enabled planes. DISH unveiled the new service by surprising a plane full of passengers with a free iPad 2 and an introduction to the service. As of today, passengers flying on Southwest can stream directly to their personal devices live TV and up to 75 on demand titles for free.
Customers using DISH Anywhere and a Hopper can watch all their live TV, DVR recordings and on-demand shows anywhere, anytime via Wi-Fi connection or Hopper Transfers (an iPad app that lets you download programs locally). But now, on Southwest, you can use an iPad to watch free live TV and on-demand shows in-flight.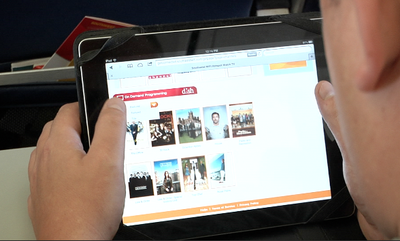 The system works by providing in-air access to live TV, on-demand programming and Wi-Fi connectivity through Southwest's satellite-based inflight entertainment and connectivity partner, Row 44. The live-TV lineup currently features Bravo, CNBC, FOX 5 New York (WNYW), FOX Business Network, FOX News Channel, Golf Channel, MLB.com (Major League Baseball, when games are available), MSNBC, NBC 4 (WNBC), NFL Network, Food Network, HGTV and Travel Channel.  Popular TV show episodes are also available on demand as part of the TV lineup.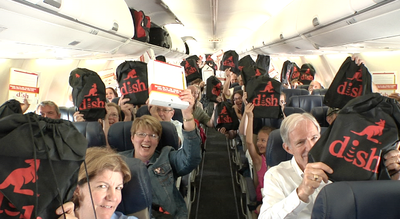 At the end of the announcement we saw that "Free TV, compliments of DISH" is listed as a "limited-time" promotion. While neither company has claimed an expiration date for the program, we're wondering if this will be a short-lived promotion, or something that will endure as a marketing campaign for years to come. Certainly DISH Network will be able to promote themselves heavily in-flight as part of the arrangement and it would seem like they would gain subscribers as a result. If anything, there are plenty of people who fly, but who have not yet experienced portable television viewing that is possible with newer connected DVR systems.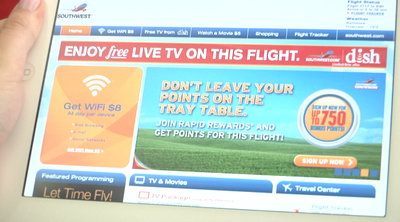 I would also wonder if this might not usher in a further interest in on-demand television, paving the way for even great consumer demand and adoption of less traditional broadcast mediums. That will be something we'll have to wait and see about.
Recent Forum Posts:
allargon posts on July 02, 2013 12:30
Is this via a regular Hopper or a Hopper Sling?
Post Reply