DISCover ApeXtreme & Next Generation Game Consoles at E3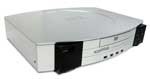 Long Beach, CA (May 5, 2004) - Digital Interactive Systems Corporation (DISC), creator of the DISCover® Game Consoles, announced today that it will be an exhibitor at this year's E3, May 12-14 in Los Angeles, CA, where it will feature new partners and showcase the award-winning ApeXtreme Game Console from Apex Digital, Inc.. DISCover will be located in the South Hall, Booth 600 at the Los Angeles Convention Center.
"After an exciting debut at this year's Consumer Electronics Show we're eager to host the launch of ApeXtreme at E3, as well as the unveiling of new DISCover partners," said Avraham DorEl, President of DISC. "DISCover strives to be a leader in gaming innovation and there is no better place to showcase our abilities to our colleagues, new partners and the industry's finest."
The DISCover booth in South Hall will feature, in addition to Apex Digital's ApeXtreme, many exciting new innova¬tions, including first-look prototypes of upcoming next-generation DISCover consoles from Alienware, ABS, Onkyo, TEAC and others. Visitors can experience what playing the latest PC games on a home television can be like when played on a DISCover console on state-of-the-art Apex LCD and Sharp Aquos televisions. All of the latest, most popular PC games are DISCover games, some of which will be demonstrated on DISCover consoles at E3, including Joint Operations: Typhoon Rising, the new FPS from NovaLogic. Guests can even play EA's Tiger Woods or MS Links to practice their golf swing on DISCover's private putting green with the QMotions-Golf™ Indoor Golf Simulator connected to a DISCover Console.
DISCover's Drop & Play™ technology works transparently on the Windows XP Embedded operating system to automatically transform unmodified PC games into "no-hassle" DISCover console games. The ApeXtreme, which debuted at this year's CES and won Best of Show accolades from Tech TV has since added more powerful hardware and PVR capabilities and will be available to consumers late this summer with a suggested retail price of $499. For more details regarding DISCover game consoles, please visit www.discoverconsole.com
About DISC
Digital Interactive Systems Corporation is a California corporation headquartered in Long Beach, California which was established to produce and market hardware and software based on patented technologies. DISCover is the registered trademark name under which the company's partners will market their PC game and digital interactive entertainment consoles.