Digital Video Essentials HD DVD Released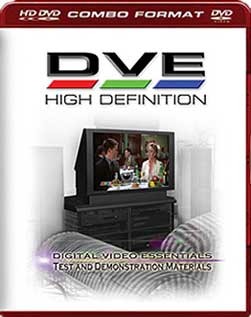 Digital Video Essentials HD DVD
Joe Kane, creator of the original Digital Video Essentials, has now released Digital Video Essentials HD DVD. The new dual-sided hybrid disc features 1080p and 720p test and demonstration materials on one side and Standard Definition tests and demos in NTSC or PAL format on the other. The HD DVD layer also features introduces 6.1 channel Dolby Digital Plus and Dolby Digital True HD audio. Digital Video Essentials HD DVD was produced in cooperation with Microsoft Corporation and Deluxe Laboratory.
In looking at a preview of the disc, it seems to, for the most part, merely reiterate the original DVE test patterns in HD DVD native formats (720p and 1080p). The addition of Dolby Digital Plus and True HD formats is a nice touch, but users expecting a whole new suite of tests are likely to be presented with updated (though accurate) HD versions of very familiar material. For calibrations purposes, this isn't exactly a bad thing and users will already be familiar with the many tests and patterns. The VERY dated introductory animation and graphics are almost laughable in this day and age, but they are so recognizably belonging to "DVE" that I almost understand why they were left in.

The Digital Video Essentials HD DVD utilizes VC-1 encoded matieral in both 720p and 1080p formats. This is actually the first time 720p has been used natively in HD DVD and the disc even includes a 720p/60 demo. The VC-1 codec was selected for this disc (as opposed to MPEG-2, for example) because it delivers the best looking pictures available in HD DVD. Critical patterns were generated in specifically in the 720p and 1080p resolutions and were not merely converted from prior versions. The program also includes extensive use of text files to drive the menu system, as well as test patterns such as Reverse Gray Ramps with Steps, Shallow Ramps and Colored Ramps which have been properly generated in HD.
For those unsure of which version to buy, the dual-layer nature of this latest disc is a compelling feature if you are tempted to get into HD DVD down the road. We utilize a Toshiba HD-XA2 for many of our reference video sources and the availability of this new HD DVD disc is a welcome advancement in consumer-level video calibration.

Other features include:
Dual-format HD DVD/Standard Definition DVD
Dolby Digital Plus and Dolby True HD Calibration content
Color filters to assist in calibration
Widescreen 16x9 in Standard Definition and HD DVD

A future edition of "Digital Video Essentials HD DVD" is already being planned, and will include additional languages.
Digital Video Essentials HD DVD is available now from DVD International at a suggested retail price of $34.95. Support documentation for the calibration disc can be found at www.videoessentials.com/dvehd/index.html.
For more information, please contact Joe Kane Productions at www.videoessentials.com.
Dezoris posts on April 17, 2007 12:36
Any plans for a BluRay version of this disk?
If not I assume with some of the recent tools available this could be bought and copied to a BluRay-R disk without losing the integrity?
Post Reply