Digital Mind Announces DMC 8270 MP3 Player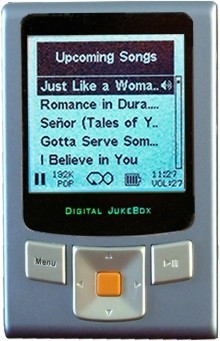 CARLSBAD, Calif. - Dec. 14, 2004 - Digital Mind Corporation (DMC), the California based technology company that recently released the world's first 100GB portable audio player, today announced the release of its DMC 8270 low-cost ultra portable digital audio player and personal information manager.
"The 20 gigabyte DMC 8270 is the latest addition to our line of technologically advanced Portable Audio Products," says Jim Collier, Digital Mind's President and CEO. "Our new ultra portable 8270 is the first of our new 8000 series. It has all of the features that consumers have come to expect from DMC players. In addition to the standard MP3, WMA and OGG file support, it also has a built-in FM tuner with direct recording capability, voice recording and direct encoding of audio files into MP3 format without the need of a computer. It also provides backup file storage capability as a USB hard drive. The rechargeable lithium ion battery provides 15 hours of continuous playtime, and of course it is user-replaceable."
"We are very excited about our new 8000 series of products, and the truly outstanding value offered by the 8270," Collier added. "Its sleek, all-metal construction reminds you of the styling one finds in expensive German sports cars. Among its long list of features is the ability to organize and search music files by artist, album and genre. Also included is a Personal Information Manager (PIM), which can synchronize with Microsoft Outlook, as well as a calendar and real time clock. And, if you get bored, it has four built-in game functions."
The DMC 8270 measures just 100 X 65 X 18 mm, and weighs 190 grams. Its 20GB hard drive can hold 5,000 songs and it is both PC and Mac compatible. It is bundled with Musicmatch 9.0 music management software which synchronizes with the 8270 for advanced music library management. Its 2.5 inch diagonal display has 75% greater viewing area than the current number one selling music player, and at $249, it is $50 cheaper than its lesser featured competition.
A full list of product specifications can be found at www.DigMind.Com .
About Digital Mind Corporation
DMC is a value-added innovator dedicated to bringing advanced technology products to technically demanding consumers. DMC is partnered with a number of design centers developing a wide range of technically advanced products that will be made available to sophisticated users. Please visit our website at www.digmind.com .