Digital Audio Projection the Next Trend?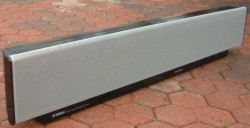 SCOTTSDALE, Ariz. - May 10, 2005 - The introduction of the Yamaha YSP-1 digital audio projector made quite a splash this year, winning G4TECHTV's Best of Show, CES 2005. This new consumer device is the harbinger of a new opportunity for semiconductor and consumer electronic manufacturers, reports In-Stat ( http://www.in-stat.com ). The high-tech market research firm forecasts digital audio projection to become a $939 million worldwide market by 2010. The revenue in semiconductor content for the products is estimated to reach $335 million by 2010.
Digital audio projection is consumer electronics' version of ventriloquism. Accomplished ventriloquists can "throw their voice" in addition to just speaking without opening their mouth. Digital sound projection performs for the audience in the same way. Replacing the talented ventriloquist, the speakers in front of the listener radiate sound energy, but here the similarity to ventriloquism ends: through digital-signal processing, an array of speakers can be employed to provide a number of virtual sound sources surrounding the listener. Concentrated sound beams are formed within a digital audio projector and then emitted through an amplifier/speaker array. The narrowness of the beam allows the beam to be bounced off walls without disruption. Programming accounts for phase delays and the directional quality of the beam steering, and the listener receives the auditory effect of 5.1 or 7.1 surround sound configuration.
"Digital audio projectors start initially as stand-alone units, but they will eventually be integrated into the form factor of video display units," said Chris Kissel, an In-Stat analyst. "This opportunity is good for semiconductor manufacturers. Digital audio projectors utilize a combination of DSPs (digital signal processors) and one sophisticated ASIC to handle sound beam-steering and the phase delay calculations, making digital audio projectors an especially appealing market for manufacturers of those critical components."
A recent report by In-Stat found the following:
While the digital audio projector, as it is made today, is attached to a home theater system, its long-term success is dependent upon it being integrated, at some point, into video display units.
LCD TVs will dominate the unit volume of displays with integrated digital audio projection due to the size of the market. However, plasma TVs will enjoy the highest percent penetration.
Digital audio projection will consume over 1 million DSPs per year by 2007 and 100 million array transducers per year by 2009.
In-Stat expects that digital audio projectors' initial price of approximately $1,300 will fall significantly over the next few years based upon a detailed analysis of the estimated bill of materials and integration trends.
The report, "Come On Feel the Noise: Digital Audio Projector Technology, Chips and Equipment" (#IN0502563ESCA), covers the emerging market for digital audio projectors and semiconductors. The report provides a five-year forecast for both stand-alone and TV-integrated DiSP solutions, the anticipated bill of materials, the semiconductor opportunity, and what semiconductor applications drive the technology.
For more information on this report, please visit: http://www.instat.com/catalog/Scatalogue.asp?id=280
About In-Stat
In-Stat ( http://www.in-stat.com ) is the leading provider of actionable research, assessments and market forecasts of semiconductors and advanced communications equipment and services. Our forecasts, analysis, and insights are derived from both a deep technology understanding and a unique research methodology, which examines each segment of the value chain for each market. Technology vendors, service providers, technology professionals and market specialists, worldwide, rely on In-Stat's tenured, experienced staff and in-depth research to support critical technology, product and success decisions.
In-Stat is a strategic segment of the $8 billion Reed Elsevier global information network, with access to an expansive worldwide electronic network, extensive technology databases and well-informed personnel. In-Stat analysts gain exceptional insight into geographic marketplaces and specific technologies within markets such as electronics, cable and wireless. As a member of Reed Business Information, In-Stat is a division of the largest business-to-business publisher in the United States.