Design Your Own Seating on Elite HT Website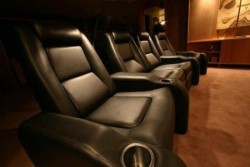 Blaine, WA - April 18, 2005 - Elite Home Theater Seating offers a new innovative option to home theater designers and builders. With its interactive but user friendly website, today's home theater aficionados can customize their theater seating and immediately see the final result.

The different parts of the Elite Power Recliner, including the arms and seat back, are interchangeable and can be mixed and matched to create 16 different configurations. There are 4 different arm styles and 4 different seat back styles to choose from. Using the "Battleship-esque" grid system, a user simply selects a coordinate, such as configuration B3 for example, and the completed chair is shown in real time. From here, the chosen configuration can be seen in various layouts, colors, and stitching patterns.

"The ability to visually see the final product in the chosen style, color, and layout is very appealing to the consumer." says company founder and CEO Bobby Bala.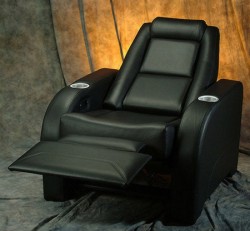 "During the design process, it was imperative to create interchangeable parts that complemented each other and that were stylistically compatible."

The much discussed issue regarding seat height is an example of how the Elite Power Recliner caters to different preferences. Some consumers prefer a high back which may accommodate style preferences and offer more head support, however many industry experts prefer a low back so that rear speaker sound quality is not sacrificed. To accommodate all preferences, there are 2 different high seat back styles and 2 low seat back styles to choose from.

In comparison to traditional theater furniture, Elite Home Theater Seating offers a more "sleek" and sexy type of styling that would best be defined as contemporary or even "high tech". It may very well be the next generation of home theater seating.

For an interactive demonstration of the features and customization capabilities of the Elite Home Theater Recliner, visit www.elitehts.com