DEQX HDP-Express Pre-amp Processor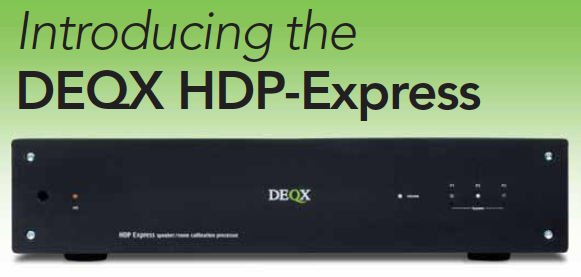 DEQX HDP-Express
There's never been anything like DEQX's reference HDP-3 DSP pre-amp correction processor. And it's still the only audiophile component capable of delivering a four-fold improvement (that's 400%, not 40%) in almost every parameter that helps make your audio system sound 'real'. It directly corrects your system's weakest link—your loudspeaker's native (anechoic) performance, where over 90% of the distortion and inaccuracies in timing and coloration originate. Yet, despite the HDP3's modest pricing (from just US$3950) it has been out of reach for many serious music-lover audio enthusiasts and DIYs. Enter the HDP-Express: from only US$1950 (plus cal mic and freight) when purchased factory-direct, the HDP-Express retains the HDP-3's key performance features, using the same DEQX-cal setup software for Windows (or Mac with Windows).
Active linear-phase crossover features:

Steeper than 6dB/octave crossover filters required to reduce distortion don't maintain linear-phase using traditional crossovers. Now they do. Traditional active Butterworth and Linkwitz Riley, mild to steep crossovers and four 'Profile' presets lets you directly compare linear-phase advantages. Using 48dB/octave or steeper linear-phase crossovers distortion vanishes, resolution increases, while volume can double or quadruple, 3 to 6dB. When used with speaker correction, stereo 3D imaging, volume and dispersion improve markedly, making a centre speaker usually unnecessary.
Speaker correction features:

Anechoically measure and correct your passive or active speakers using a simple measurement technique, even in your listening room.
Corrects anechoic (native) speaker frequency-response from typically plus/minus 3dB to plus/minus 0.3dB*

Corrects Group-delay (phase/timing errors at different frequencies) about tenfold* e.g. 2ms reduces to 0.2ms —especially noticeable in midrange.

Room Correction features and preference EQ:

One or more room measurements displayed graphically, allow manual, real-time, 7-band parametric EQ settings
Time-domain correction of subwoofers/bass speakers measured in-room.

Adjust delay between main speakers and subwoofers in real-time.

Media correction—forensic tone control:

Remote controlled Low-shelf, Midband-fully parametric and High-shelf

Low, mid and Hi frequencies adjustable in octaves and semitones

Adjustable Q from one semitone to four-octave wide

99-memory storage for instant recall

Pre-amp and processing features:

Four profiles for instant selection of crossovers, correction and EQ

Four inputs: S/PDIF, AES3, analogue unbalanced and balanced.

Integrate one or two subwoofers

Remote controlled Input and profile selection.

Six unbalanced outs: Stereo low, mid, Hi (mid used for passive speakers)

Optional balanced outs (6 x XLRs) transformer or active.

Dual 32-bit SHARC DSPs provide minus 140dB THD digital transparency
For more information go to www.deqx.com.
GranteedEV posts on September 21, 2010 15:54
This + a high end CMS sounds like a mighty incredible HT.
Maybe someday.
ratso posts on September 21, 2010 12:58
yes, it seems like DIY's or home installers will love this. for the regular end user, what is up with the ridiculously clunky interface? i made it up to about page 80 browsing the installation manual when i finally gave up. i have used both audysssey (in my AVR and a SVS AS-EQ1) and two versions of room perfect, but this is something else..
Post Reply