Denon and Marantz Offer Airplay Upgrade for $50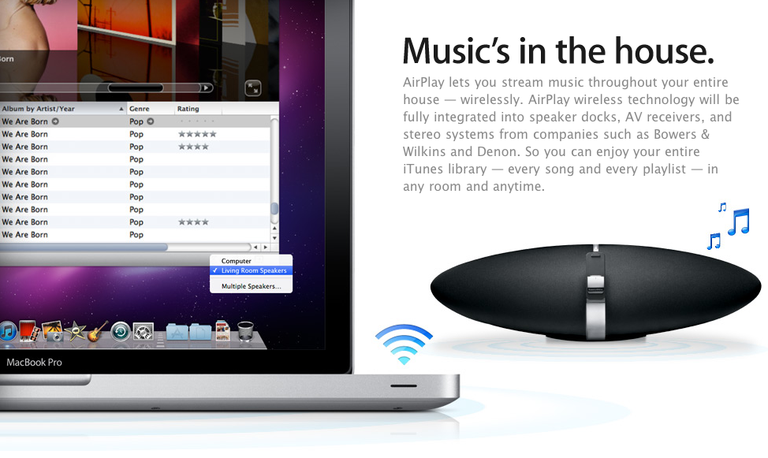 Denon and Marantz Offer Airplay Upgrade
Denon Electronics and Marantz America announced the availability of AirPlay music streaming capability on nine network-capable audio/video components in their respective lineups, making the A/V receivers the world's first to include AirPlay capability. Given the availability of the newly launched Apple iOS 4.2 update to its mobile operating system, owners of AirPlay compatible Denon and Marantz components may now stream songs directly from their iTunes music libraries, as well as music stored on their mobile devices, though their Wi-Fi enabled networks from their iPhone, iPad or iPod Touch devices. The AirPlay upgrade is available at both the Denon and Marantz websites for $49.99.
Denon A/V receivers that are AirPlay capable include the AVR-4311CI (SRP: $1,999), AVR-3311CI (SRP: $1,199) and AVR-991 (SRP: $999), as well as the company's new 100th Anniversary Product Collection Model AVR-A100 (SRP: $2,499) and its N7 Networked CD Receiver and 2.0 Channel Speaker System, consisting of the new RCD-N7 CD Receiver (SRP: $599) and SC-N7 Stereo Loudspeakers (SRP: $199/pair). In addition, all of the new, IP-based Marantz® products, including the Model SR7005 A/V Receiver (SRP: $1,599), AV7005 A/V Preamplifier (SRP: $1,499), NA7004 Network Audio Player (SRP: $799) and M-CR603 Networked CD Receiver (SRP: $699) will work with the new AirPlay feature.
With AirPlay, users can literally "give their home a soundtrack" by unleashing their iTunes music libraries whether from Mac or PC and streaming all their favorite iTunes songs, as well as music stored on their Apple mobile devices, to select Denon and Marantz components through their Wi-Fi enabled networks from iPhone, iPad or iPod Touch devices. Users do not even need to be in the same room as their Denon or Marantz components to play, pause, skip, and stop the songs in their iTunes libraries.  Users may even view iTunes music information, including album art, track titles, and artist info on Apple compatible devices or with their Denon and Marantz components with video output.
"Denon and Marantz both share a commitment to providing consumers with the most advanced lifestyle enhancing features and capabilities that allow them to get closer to the entertainment they love – simply and easily. Maximum compatibility with all of today's home entertainment content and source components is a top priority, including the iPod and iPhone, and now AirPlay capability. AirPlay adds yet another great dimension to content enjoyment and enhances the overall home entertainment experience. This is yet another example of how both the Denon and Marantz brands utilize ahead-of-the-curve innovations and technologies to take home entertainment to the next level."
- Bob Weissburg, President of D&M Holdings NA
For more information on Denon, visit http://usa.denon.com. For more information on Marantz, visit http://us.marantz.com.
About Denon Electronics
Denon celebrates its 100th Year Anniversary in 2010, carrying on its tradition of excellence with a renewed commitment to the highest quality home theater, audio and software products.  Denon is recognized internationally for innovative and groundbreaking products and has a long history of technical innovations, including the development and groundbreaking commercialization of PCM digital audio.  Denon Electronics is owned by D&M Holdings Inc.
About Marantz
Marantz America is committed to upholding the tradition of technological superiority initiated by founder Saul Marantz. In keeping with this emphasis on quality, Marantz audio and video components are carried only by the nation's premier audio/video specialty retailers. Additional information is available at www.us.marantz.com and www.facebook.com/marantzamerica. Marantz America is a wholly owned subsidiary of D&M Holdings Inc.
rushwj posts on January 15, 2011 10:13
kind of ridiculous to charge for this. anyone who thinks about this should just get an applet tv for $99, giving you the airplay and a lot more connectivity and options for audio/video from your computer along w/ netflix.
nhpm510 posts on January 11, 2011 15:15
Agree
It probabLy will be next year.
GlocksRock, post: 781340
This update should be free if you ask me.
GlocksRock posts on January 11, 2011 13:15
This update should be free if you ask me.
Post Reply