Denon CEDIA 2004 New Products - Receivers, DVD Players, More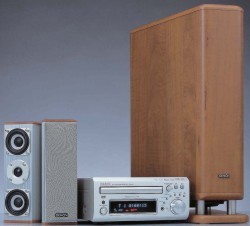 Pine Brook, NJ, July 12, 2004 - Denon Electronics, a world leader in high-performance home theater products, today unveiled a broad range of advanced audio/video components that combine some of today's most innovative technologies with unprecedented home entertainment features and benefits. The comprehensive lineup is led by the world's first 10-channel audio/video receiver, the flagship AVR-5805, and includes two new "universal" DVD players, a full line of A/V receivers for every consumer application and budget, new all-in-one home theater systems and more.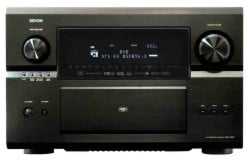 AVR-5805: The Evolution of High-End Surround Sound
Weighing in at 90 pounds, Denon's new flagship AVR-5805 marks the next step in the evolution of the company's reference-quality 5800 series audio/video receivers, elevating the entire category to new heights of surround sound realism and flexibility. The world's first A/V receiver with 10 built-in amplifiers and 16-channel output, the AVR-5805 offers unprecedented multi-source and zone capabilities with perhaps the most comprehensive analog and digital audio/video switching configurations ever offered. It is scheduled for delivery in November with a suggested retail price of $6,000.
The AVR-5805 leads Denon's full family of high-performance, high-value receivers, with models designed to fit every need and budget. -2- In addition to the AVR-5805, the new Denon A/V receiver lineup includes: the AVR-3805 (SRP: $1,199), AVR-2805 ($899), AVR-2105 ($649), AVR-1905 ($499), and AVR-1705 ($399). All Denon A/V receivers combine superb sound quality with expanded audio/video control capabilities.

Denon DVD: Five New Single-Disc Models
Denon is continuing to lead the way in high-performance DVD players with the introduction of a new line of advanced single-disc progressive scan models. Highlights of the new line include two "universal" models (DVD-3910, SRP: $1,299, DVD-2910 SRP: $729) as well as two new high-performance, high-value players, the DVD-1910 (SRP: $269) and DVD-1710 (SRP: $179). With these additions to Denon's DVD player lineup, the company is continuing to set industry standards in performance and features while providing real-world solutions for every possible home entertainment application.
New All-in-One Home Theater Systems
Denon is also introducing two new all-in-one surround sound solutions designed to give consumers more options and flexibility in high-performance home theater system building. Both the multi-component 6.1-channel Denon DHT-485DV (SRP: $699) system and the elegant, compact, integrated 2.1-channel D-M51DVS Personal Component DVD/Receiver Home Theater System (SRP: $799) provide room-filling multichannel sound and are available with or without satellite loudspeakers and powered subwoofers.
About Denon Electronics
From its beginning in the 1930s as a supplier of professional recording studio and broadcast equipment, Denon has become a world leader in the manufacture of the highest quality home theater, audio and software products. Denon is recognized internationally for innovative and groundbreaking products and has a long history of technical innovations, including the development and first commercialization of PCM digital audio. Denon Electronics is a wholly owned subsidiary of D & M Holdings Inc.
About D & M Holdings Inc.
D & M Holdings Inc. (TSE II: 6735) is based in Tokyo and is the parent company of wholly owned subsidiaries Denon Ltd., Marantz Japan, Inc. and McIntosh Laboratory, Inc. Denon, Marantz and McIntosh are global industry leaders in the specialist home theater, audio/video consumer electronics and professional audio markets, with a strong and long-standing heritage of manufacturing and marketing high-performance audio and video components. A wholly owned subsidiary of D & M Holdings U.S., Inc., Digital Networks North America, Inc. (DNNA), owns the ReplayTV®, Rio® and Escient® brands - all representing award-winning technologies in digital home entertainment. Additional information is available at www.dm-holdings.com .