Denon AVR-2307CI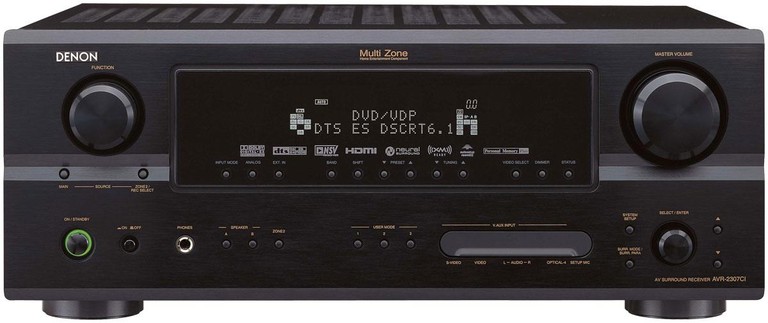 Mahwah, NJ – January 8, 2007 — Denon Electronics, one of the world's premier manufacturers of high-quality home entertainment components, will display its advanced lineup of audio/video surround sound receivers at its Dealer Meetings in Las Vegas, each designed to serve as the centerpiece of an integrated home entertainment system.
Denon's most recent A/V receiver introductions include the flagship AVR-5805CI, (SRP: $7,200), the AVR-2307CI (SRP: $799), AVR-1907 (SRP: $549), AVR-1707 (SRP: $449) and AVR-1507 (SRP: $329). Rounding out the line are the following high-performance models: AVR-4806CI (SRP: $4,000), AVR-4306 (SRP: $1,999), AVR-3806 (SRP: $1,299), AVR-2807 (SRP: $1,099).
AVR-2307CI: High-Value, High-Performance, New Custom Install-Friendly Features
The high-performance 7-channel Denon AVR-2307CI receiver includes many of the same features that distinguish Denon's higher-priced units. Among its advanced technologies are HDMI digital video source switching, plus a variety of new capabilities geared specifically toward the custom installation market. For total flexibility and superior performance, it offers two HDMI 1.1 inputs and one output; both inputs accept and decode multi-channel uncompressed PCM audio (24-bit/192-kHz 2 channel and 24-bit/96-Hz 7.1 compatible). In addition, for maximum performance from all video sources, the AVR-2307CI can upconvert all incoming analog video signals (composite, component and S-Video) and output via HDMI. Ensuring its "future-readiness," the AVR-2307CI also features 8-channel analog input capability for new high-definition sources including Blu-Ray and HD-DVD, as well as coaxial and optical audio inputs.
About Denon Electronics
Denon is a world leader in the manufacture of the highest quality home theater, audio and software products. Denon is recognized internationally for innovative and groundbreaking products and has a long history of technical innovations, including the development and first commercialization of PCM digital audio. Denon Electronics is owned by D&M Holdings Inc.