Denon Adds Network Features to AV Products

NYC Skyline
Gene and I were flown up to New Jersey to Denon's Summer Conference in order to get a first-hand look at the new products coming to market in the next couple of months. In general, Denon seems bent on making sure that the networked home is the centerpiece of its products. In fact, the entire line has undergone drastic changes to ensure that networking products together and enabling the sending and receiving of audio (and even still image and meta information) is an integral part of Denon's product philosophy. They likely spent thousands of dollars coming up with their new marketing slogan: "Boundless Entertainment, Boundless Opportunities" but honestly, we'd just call it "common sense." People have networked homes - their AV products should work within those networks automatically and some manufacturers are figuring this out.

Whether people will buy Denon's flavor of solutions, and whether the systems work as flawlessly as described remains the biggest hurdle. We're optimistic, and even though there were a few glitches int eh demos (these were admittedly beta products and very early glimpses of some impressive technologies), the system overall seemed to be a rather drastic leap forward from the current products. These changes come with slightly elevated price tags as well, however ($300-$500 in many cases of their mid- to hi-fi receivers).

Optional Two-way RF Remote Control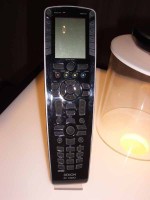 In keeping with their network focus, one of the products Denon announced was a fully programmable RF/IR remote control system dubbed the RC-7000CI (remote) and RC-7001RCI (base). The two products form a fully programmable remote control system that can operate multiple A/V devices from Denon and other manufacturers. The system, which is easy-to-use and program, can be expanded to numerous rooms in a house as an alternative to more costly control systems.
When used by itself, the RC-7000CI allows for universal command and control of all Denon remote controlled products including A/V receivers, DVD players, CD players and upcoming high definition DVD players. It also handles products from other manufacturers. Users with Internet access can simply connect the remote to a PC via USB and program the functionality of all the products in their system via one of the world's largest IR databases (similar to Logitech's Harmony series but with a much different interface).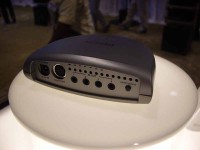 When combined with one or more of the RC-7001RCI Remote Bases, the RC-7000CI turns into a powerful multi-room remote control system that allows for both two-way communication and IR functionality. The RC-7001RCI allows a user to expand control of their system into multiple rooms by acting as a repeater of an RF signal. The system can accommodate up to 16 RC-7000CI remote controls and corresponding base units. Additionally, the front of the RC-7001RCI contains an IR blaster and up to six IR flashers can be attached to the rear of the unit (apparently using splitters since we only saw 4 ports), converting the RF signal from the remote into IR codes and is then passed along to the six connected devices. The Denon remote system uses ZigBee wireless technology (think Control4) to allow for easy and secure connectivity with the RC-70001RCI Base unit.

Furthermore, when connected to select new Denon A/V Receivers and systems, the RC-7001RCI makes two-way communication possible providing system status feedback to the RC-7000CI. This includes volume, surround mode and even full meta-data of media connected to the Denon component, including iPod, Internet Radio or XM Radio.
AV Receivers with Networking Capabilities
For the first time in nearly ten years, Denon is introducing a completely redesigned lineup of new A/V receivers, with emphasis on both audio/video performance and whole-home, multi-zone entertainment. The new lineup of thirteen advanced A/V receivers features some leading-edge technologies which include expanded Ethernet connectivity, advanced networking and specially designed custom integration features that allow remote access of the network-enabled products. Led by the flagship AVR-5308CI (SRP: $5,199), the "networked" line also includes the AVR-4308CI (SRP: $2,499) and AVR-3808CI (SRP: $1,599).
Two New Network-Enabled Clients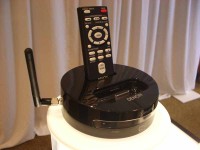 Denon's two new Network-Enabled A/V Clients, the ASD-3N (SRP: $179.99) and ASD-3W (SRP: $229.99), both with iPod command and control, allow consumers to add network connectivity to many A/V components, including A/V receivers and video displays. Once connected to an A/V receiver or display (and not just from Denon) they provide instant access to existing home networks, letting users stream audio files, pictures and Internet radio stations from connected devices. Both models include a remote control and feature a screen saver and a newly designed GUI (similar to the new AV receiver GUI) for displaying meta-data, full-color album artwork and user photos. For additional networking flexibility, both units feature an Ethernet port, while the ASD-3W adds wireless capability as well. The ASD-3N and ASD-3W will be available in August and September (respectively).
DHT-FS3: "X-Space" Active Surround Sound System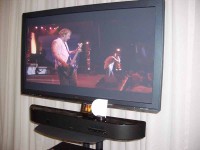 Denon is also taking on Yamaha's YSP-series Digital Sound Projectors by introducing the DHT-FS3 (SRP $1,199) "Active Surround Sound System". The new product is targeted towards providing a stylish "single speaker surround" solution to flat panel TVs. The system uses X-Space Surround technology in an innovative bar-shaped design that lets users wall or shelf-mount the unit inconspicuously either underneath or above their flat-panel TV. The system works on diffraction, whereas the YSP-series form Yamaha functions using beaming technology. The "X-Space Surround Bar" has an integrated 6-channel amplifier and includes two sizes of feet plus wall brackets - to ensure that any mounting option is available 'out-of-the-box'. The included remote wil handle DVD players, displays, cable boxes and more, simplifying any setup. Denon claims their technology offers a wider sweet spot, but they didn't seem to take a ton of time demoing the product or explaining the way it produces multi-channel surround. The DHT-FS3 is elegantly styled in a gloss piano black finish (no silver option) to match many of today's flat panel displays.
The system provides for a subwoofer output and comes with a super-slim sub to provide the deep bass response needed for great home theater audio. The system features a 5-channel built-in amplifier (25W/channel) as well as a 50W amplifier for the subwoofer. The DHT-FS3 will be available in July 2007 for $1,199.
New S-Series Products: S-302, S-102, S-52 and S-32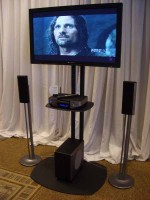 Denon is expanding its popular S-Series of home entertainment products with two new compact 2.1 systems, models S-302 (SRP: $1,699), and S-102 (SRP: $999), both of which are marked improvements over prior models and offer the same networked features that Denon is implementing across its entire line-up.

The S-302 and S-102 maintain the same compact form factor as previous S-Series compact systems, with minor cosmetic differences to the speakers, with significant feature and convenience enhancements. Notably, the S-102 will scale content from its built-in DVD player up to 1080p, outputting it via HDMI, and the S-302 will upconvert all analog sources to HDMI, with scaling to a crystal clear 1080p image. Additionally, both will perform I/P conversion from interlaced to progressive scan.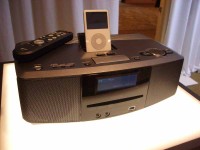 The company is also adding its first two Networked Audio Systems (which have both a clock and radio, but which must never be called 'clock radios' under penalty of death) to the S-Series lineup. Models S-52 ($ 699) and S-32 (SRP: $499) are targeted towards kitchens and bedrooms which may benefit from a fully-functioning network client in a Denon-networked home. These new not clock radios are DLNA-compatible and support Windows PlaysforSure technology. The system is controlled by a rather nifty jog wheel and has a nifty subwoofer output - because it can.

Denon's S-52 and S-32 Networked Audio Systems feature the ability to stream music wirelessly from Internet Radio sources and other network attached storage devices, PC or Mac computers on the network and even the Rhapsody Music Service (subscription required). Both units also feature a built-in iPod dock for easy drop-in functionality. The S-52 adds a slot-loading CD player, handles HD radio, is XM-ready and can take on USB mass storage devices.

Like the other models in the S-Series, all four of these new units deliver crisp, clean sound with powerful bass response, made possible by Audyssey Bass-XT and Dynamic EQ software which adjusts the low-frequency EQ at all volume levels. They also have the ability to decode popular MP3 and WMA formats but also AAC, WAV and those encoded in FLAC.
Conclusion and Observations

Denon is serious about networking its products together. We saw it live and, although there were some bugs to be worked out, the future seems brighter. To say that the new GUI is better than the old is an understatement, though we haven't yet used it to set up a system. One thing I'd like to point out it that, unlike with Yamaha's new GUI system, Denon retained the ability to navigate through the Setup menus using only the front panel of the receiver. This is a welcome detail that was nice to see included in final products.

While Denon seems to be clearly targeting the high-end consumer and lifestyle product market they didn't completely leave out entry level upgrades. For example, they will now have an AV receiver at a $349 SRP that handles 2-in, 1-out HDMI switching. That's insane and shows that at least some of this new technology is trickling down nicely to the lower models.

Networking in the home... it's a hot idea. The key will be execution. If Denon makes it easy, practical and affordable then it will take off. The first two items they can probably hit. The last is bogged down by some "price-creep" that is showing up across the entire mid-fi and higher-end CI lineup. We'll see how consumers react and whether competition (which is definitely heating up) will drive prices down or eliminate features (and costs) that consumers may not yet be ready for.
All in all it's good stuff!

vividere posts on November 09, 2007 22:35
missing Dolby modes
I got to this forum topic after reading the press release on here regarding the new Denon models. It seems there is a discrepancy between what I read in the release vs. reality. This is what the press release said:
More Custom-Integration Friendly
FeaturesModels AVR-2308CI through the AVR-5308CI include support for Dolby TrueHD and DTS-HD Master Audio decoding.
I didn't check the models above the 2308, but it doesn't seem the 2308 has those Dolby modes? I have the 2308 brochure here in front of me and it doesn't list those modes? It only shows:
Dolby Digital EX
Dolby ProLogic IIX
I would think if it has Dolby TrueHD it would be on the spec sheet? Likewise, it doesn't mention DTS-HD either?
I have been debating between the Denon 888 and the Onkyo 705 as they are the same price but the Onkyo has an additional HDMI port, THX Select and the Dolby models that the Denon doesn't seem to have.
Is there an error on the Denon site?
Thanks,
Lew
rushwj posts on July 29, 2007 13:32
anyone w/ any thoughts on how these would compare as pre-pro's to emotiva pre-pro's that are supposed to come out at the end of the year? sound quality is the main comparison i'm getting at.
boe posts on July 28, 2007 18:56
There have been a couple of rumors about a low end prepro coming out in addition to their extremely high priced unit - did they show off just the high end one or the other one rumored to be coming out much later this year?

Thanks
agarwalro posts on July 26, 2007 13:58
pbarach1, post: 288714
Yes, but the workaround (if your room setup allows it) is to use a different video connection to the monitor for doing adjustments when you need to see the GUI. You can use component, S-video, or composite–it doesn't really matter.
I understand that this workaround exists. Unfortunately, it is not applicable in my setup.
Clint DeBoer, post: 288747
One thing they mentioned is that several of the top-end receivers do HDMI to HDMI upconversion and scaling and the GUI outputs via HDMI as well (along with on-screen volume, etc).
That should do it. I feel a bout of Upgraditis coming on
MDS posts on July 26, 2007 13:42
Instead of an LCD TV I could put that monster receiver in the wall unit. I wonder just how many of those they sell.
Post Reply