Denon Adds XM Satellite to AVR-4806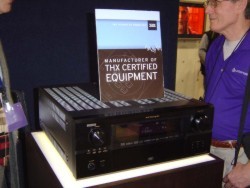 Pine Brook, NJ - Denon Electronics today announced that it has added XM Satellite Radio functionality to its recently introduced AVR-4806 multi-zone audio/video receiver. With the addition of an optional XM antenna, the AVR-4806 becomes a complete high-performance XM Radio tuner - and the industry's first premium A/V receiver to offer the full range of services from XM Satellite Radio, America's leading satellite radio provider.
Satellite-delivered XM Radio has over 3 million customers, and provides listeners with 150 digital channels, including 100% commercial-free music, over 30 channels of news, sports, talk and entertainment, and over 20 dedicated channels of XM Instant Traffic and with the optional antenna, AVR-4806 purchasers will be able to begin enjoying access to all XM Radio's subscription-based programming.
Jeff Talmadge, Marketing Manager for Denon USA noted, "In all our premium audio and video products, Denon's goal is to provide consumers with the most choice in how they will enjoy the finest quality home entertainment. With the addition of XM Radio functionality, AVR-4806 purchasers will now have even more power to choose the type of entertainment they will bring into their home - with all the benefits and varied programming of the service that is leading the way in the satellite radio revolution. Satellite radio continues to gain in popularity among American consumers, and Denon looks forward to providing more home entertainment products in the future that feature this lifestyle-enhancing technology."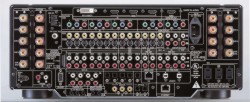 The Denon AVR-4806 (SRP: $3,500), available in April, offers many of the industry's most advanced surround sound and A/V distribution capabilities, including the groundbreaking MultEQxt technology from Audyssey Laboratories that provides listeners with a "sweet spot" in up to eight listening positions in a room. With its seven discrete amplifiers and multiple-channel output, the AVR-4806 provides independent audio and video processing capabilities and a configurable amplifier section that lets users enjoy a versatile multi-zone home entertainment experience from a single component. Users can enjoy three independent home entertainment zones, with three different audio/video sources running simultaneously. In addition, multi-zone preamplifier outputs provide independent power, source and volume control for each zone.
The AVR-4806 is compatible with every popular 6.1 and 5.1-channel surround sound format from Dolby and dts to THX Ultra2 Cinema and Music, as well as THX Surround EX decoding. It also features Dolby Headphone technology for private surround sound enjoyment. Its full complement of advanced audio and video processing capabilities includes not only HDMI/DVI digital video source switching but also provides the ultimate in connective flexibility allowing the receiver to upconvert all incoming analog video sources (composite, component and S-Video) to HDMI output. In addition, the AVR-4806 offers the most extensive complement of connection options of any receiver in the industry, including three high-bandwidth (100 MHz), HDTV-compatible component video inputs, IEEE-1394 and much more. For the ultimate in total home connectivity and future-readiness, the AVR-4806 also includes an Ethernet port for control and future upgrades.
Read Audioholics' CES 2005 Coverage of the AVR-4806
About Denon Electronics
From its beginning in the 1930s as a supplier of professional recording studio and broadcast equipment, Denon has become a world leader in the manufacture of the highest quality home theater, audio and software products. Denon is recognized internationally for innovative and groundbreaking products and has a long history of technical innovations, including the development and first commercialization of PCM digital audio. Denon Electronics is a wholly owned subsidiary of D & M Holdings Inc.
About D & M Holdings US, Inc.
D & M Holdings US Inc. is a wholly owned subsidiary of D & M Holdings Inc. (TSE II: 6735), which is based in Tokyo and owns the Denon, Marantz, McIntosh Laboratory, D & M Professional, ReplayTV®, Rio® and Escient® brands. Denon, Marantz, McIntosh and D & M Professional are global industry leaders in the specialist home theater, audio/video consumer electronics or professional audio markets, with a strong and long-standing heritage of manufacturing and marketing high-performance audio and video components. The ReplayTV, Rio and Escient brands represent award-winning technologies in digital home entertainment.