Datacolor Launches SpyderTV PRO 2007
SpyderTV Pro 2007
LAWRENCEVILLE, N.J. - Datacolor, a world leader in color technology, today announced the arrival of the SpyderTV PRO(TM) 2007, the industry's first display calibration package specifically designed for home theater installers.
SpyderTV PRO 2007 helps home theater installers satisfy their customers by dramatically improving the viewing quality and realism for virtually any display including front LCD, plasma, RPTV, DLP, LCoS, CRT TVs and front projectors. As home theaters become increasingly common, calibration is among the most requested services for installers and can provide a significant source of additional revenue. The Consumer Electronics Association reported in February 2007 that 40 percent of consumers interested in upgrading their home entertainment systems are likely to pay for calibration as part of the upgrade.
An advanced reporting system in the new SpyderTV PRO 2007 allows installers and dealers to customize calibration reports with their own logos and contact information, to help instill loyalty in their customers for future calibrations. Additionally, the product features a customer database that collects information on their calibrations, displays and customers so installers and dealers can grow their business with follow-up visits.
"The SpyderTV PRO 2007 is an essential tool for professional installers, and with the additional fees collected from high-quality calibration, an installer can pay off their investment within months," said Krista Behrend, Product Manager for Datacolor. "There is growing consumer demand for high-definition televisions, and when people spend thousands of dollars on displays it's no surprise that many are willing to pay a bit more to ensure the picture is accurate."
The SpyderTV PRO 2007 has new features such as a sophisticated gray scale adjustment and direct connection over 30 popular displays to eliminate human error. Additional features and benefits include:
State-of-the-Art Tools - Feature-rich software allows for accurate adjustments on brightness, contrast, color, tint and gray scale. Direct connectivity is also offered on over 30 popular displays.
Ease of Use - Software wizard walks the user through the entire process, so installers don't need to be color experts to utilize it.
Extensive Support - Learn calibration through classes or via the Web. Datacolor offers full online support, monthly topics, tips and tricks and access to an expert forum.
Calibrator Locator - Allows installers to be a part of a database of certified calibrators at spydertvpro.com, making it easier for prospective customers to find them
Computer Monitor Calibration - Spyder2 PRO(TM) software also included to calibrate multiple CRT, LCD, and laptop displays
Calibration may also result in significant energy savings by reducing unnecessary brightness. According to a study conducted by the Imaging Science Foundation (ISF), which trains and certifies installers and licenses manufacturers on video calibration, and ECOS Consulting, TV calibration can lead to a 30 to 50 percent reduction in energy output.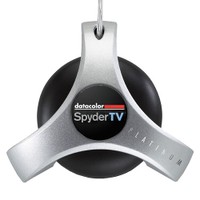 What You Get
Datacolor SpyderTV™ Platinum Colorimeter
SpyderTV PRO™ 2007 software CD
SpyderTV PRO™ 2007 test pattern DVD - NTSC
SpyderTV PRO™ 2007 test pattern DVD - PAL
Spyder2 PRO™ software CD
RS-232 cable
Null Modem Adapter
Dongle
USB to Serial adapter
SpyderTV PRO™ Tripod mount
SpyderTV PRO™ Quick Start Guide
SpyderTV PRO™ vs. Spyder2 PRO™ comparison sheet
Aluminum Carrying Case (15"x10.75"x4.5")
SpyderTV PRO Warranty Card
Access to Training and Certification Website (First Year Free - Valued at $149)
Datacolor is a global color technology leader with more than 35 years experience helping businesses, professionals and consumers achieve the right color. The company's Spyder line of products has become the most recognizable and honored color calibration brand in the world.
For more information about the SpyderTV PRO 2007 and Datacolor, please visit www.datacolor.com or www.SpyderTVPRO.com.
About Datacolor
Because color matters, leading businesses, creative professionals, and consumers worldwide choose Datacolor's innovative technology solutions to consistently achieve the right color. A Swiss-held company, Datacolor's strong worldwide presence encompasses global manufacturing and operational facilities as well as an international strategic network of sales and support offices. For more information about the company and its products or services, visit www.datacolor.com.