Datacolor Launches SpyderTV Home Cinema Calibration Tool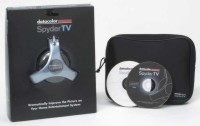 BERLIN, GERMANY - August 29, 2005 - Datacolor, an internationally known name in color technology, launches its latest and most exciting innovation in color calibration, SpyderTV™, at the IFA - an international consumer electronics fair in Berlin.
Market experts regard home cinema and especially HDTV as the driving force for the switch to digital in Europe. With the home cinema trend converging, digital technologies are presenting new opportunities for innovation with the television as a focal point. Indeed, television of the future is an increasingly interactive, multimedia hub that rapidly brings all channels of media to the consumer market, linking entertainment, communication and information technology at affordable prices.
Once again Datacolor is first-to-market with breakthrough "priceto- performance" technology for an emerging market. Spyder TV is the latest color calibration innovation from the world color technology leader targeted specifically for consumers. Through the ColorVision® brand, Datacolor has delivered award-winning Spyder products to professional and amateur digital photographers around the world, to manage color on screen and in print. Now, Datacolor leverages the industry's best colorimetric technology to optimize television viewing for the general public with an innovative display improvement tool for TVs, including CRT, plasma, RPTV, LCD or DLP display screens.
"The overwhelming success of bringing our professional technology to the reseller market, as we have done with ColorVision® ColorPlus™ and the newly launched ColorVision® Spyder2 Plus™ products, has led us to this new consumer product line," says Christoph Gamper, European General Manager for the ColorVision business unit of Datacolor, "SpyderTV brings a user-friendly product to the consumer that takes the guesswork out of improving the picture on a home cinema display." Gamper continues, " it is this kind of thinking that is making Datacolor a global brand and has allowed them to become a company that now operates all over the world."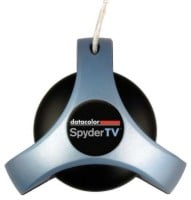 Virtually all-home cinema displays offer visual menu adjustment sliders confirms Joel Silver, founder of the Imaging Science Foundation (ISF). "TV manufacturers have been including superb menu choices for more than a decade that improve TV performance in your home. Usually better pictures are designed to be only a few button presses away; figuring out the combination of buttons to press is the problem. The ISF 'Calibration Wizard' in Microsoft® Windows® Media Center Edition PCs also uses these functions, " Silver explains.
The standard adjustments featured on most TV sets generally are configured as four sliders of brightness, contrast, color, tint, and color temperature presets. The challenge lies in the fact that these presets operate in a multi-variant manner - and rely on that notoriously fallible instrument, the human eye, to make the proper distinctions. Most people have problems with two variants, making it extremely difficult to obtain the kind of superior adjustment preferred for a quality outcome.
According to the product's R & D gurus Mark Hunter and Heath Barber, who have joined Datacolor from professional home theater pioneer Milori, SpyderTV eliminates such troubling subjectivity with a hardware device that accurately measures targets on-screen and manages the process through a "wizard-driven" software package. In effect, they report, SpyderTV takes fine-tuning to another level with a process that is both accurate and easy to use.
"The Datacolor SpyderTV helps the TV owner make selections that will accurately improve the display on virtually any monitor, from the high-end video screen found in today's most sophisticated home entertainment center to the 36" TV in your living room," states Datacolor Technical Director of Home Theater Products Mark Hunter.
"Consumers will see a dramatic difference by using a process that can easily be done at home and will be able to periodically and easily calibrate their TV's, which will ensure overall satisfaction with their purchase. This is good news for the expanding home cinema market," Gamper adds. "We are convinced that as the digital convergence trend infiltrates Europe the home cinema market will be equally as significant."
In a February 2005 report, Forrester Research noted that US consumers' lust for the new big, flat TV sets is unabated. A significant percentage of those polled, 39%, said their next TV will be a flat-panel plasma or LCD TV set. Setting the pace for HDTV penetration to grow past 50 million American homes in the next five years.
System Requirements
DVD player; remote control and a portable computer such as a laptop or notebook with Windows 2000 or XP operating system; and a USB port.
MSRP is $269. For more information visit www.SpyderTV.com .
About Datacolor
Because color matters, leading businesses, creative professionals and consumers worldwide choose Datacolor's innovative technology solutions to consistently achieve the right color. A Swiss-held company, Datacolor's strong worldwide presence encompasses global manufacturing, operational facilities, and sales and support offices. ColorVision, the digital imaging unit of Datacolor, provides affordable, easy-to-use digital color control products to creative professionals, photographers, corporate customers and consumers around the world.