Da-Lite Releases Screen Designer Software for Home Theater Product Line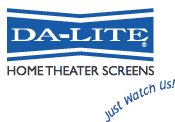 Da-Lite Screen Company, Inc. is pleased to announce the release of their Screen Designer Software for Da-Lite's Home Theater product line. Created for custom installers who encounter very specific jobsite limitations for the projection screen, Screen Designer Software allows for the configuration of a custom product unique to the client's theater requirements. Screen Designer Software guides the user through the selection process of configuring the projection screen with all possible options and available accessories, in turn generating custom drawings with multiple product views and all pertinent dimensions for the projection screen. Upon completion of the design steps, Screen Designer Software generates a quotation which includes suggested retail pricing and the appropriate part number with proper suffixes including all custom options.
The Software allows for storing dealer and billing information and the quotation generated by the software may be submitted directly to Da-Lite as a purchase order. Custom installers experienced with the Da-Lite Home Theater product line may simply bypass the screen selection assistant and move directly to configuring their clients' custom projection screen. Screen Designer Software possesses the ability to build the part number for custom case finishes, additional extra drop for electric screens or the design of the projection screen based on overall case or frame dimensions.
For more information visit Da-Lite Screen Company, Inc. online at www.da-lite.com or email [email protected] .