Da-Lite Mount Selector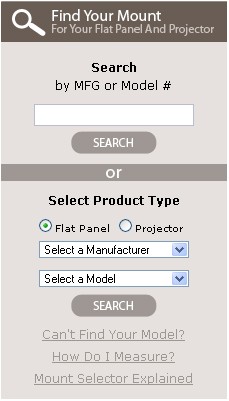 Da-Lite Mount Selector
Ever want to find out exactly what flat panel or projector mounts are compatible with your TV? Da-Lite has developed an application that will help consumers do just that. Da-Lite's new Mount Selector is an easy online tool that can be used to determine which Advance mount is compatible with your flat panel TV, display monitor or front projector.  The Mount Selector can be used in a variety of ways. Simply enter the model of the flat panel or projector in the search box and the box itself will display a filtered list of displays as you type. If you'd prefer, you can select whether you are looking for a flat panel or projector mount, then enter the manufacturer and be presented with an entire list of available models.
Da-Lite dealers can also add the Mount Finder to their web site. Customers can search for Da-Lite Mounts directly from the dealer site, adding a convenient feature to retain site visitors. To obtain the simple source code, click on the Dealers link on the Da-Lite home page.  
You can navigate to the Mount Selector by using the link on our main page, www.da‑lite.com.
Attachments: Mount Finder screen shot, Da-Lite Logo
About Da-Lite Screen Company
Founded in 1909, Da-Lite Screen Company is the leading producer of high quality commercial and residential projection screens worldwide.  With headquarters in Warsaw, Indiana and additional operations in the U.S. and Europe, Da-Lite manufactures projection screens and accessories to Fortune 500 companies, entertainment and major broadcast networks, education systems and governments around the globe.  Today Da‑Lite's proprietary screen technologies are specified for the most demanding installations from military training simulators to boardrooms and classrooms to home theaters.  Da-Lite has become the "First Name in Projection Screens."  For more information, visit Da-lite.com.
ZeGhostbear posts on November 21, 2010 11:21
I personally like hearing about announcements from Da-Lite, but I would also like to thank BMXTRIX for saving me some time for my next projector mount installation.
BMXTRIX posts on November 19, 2010 10:26
I don't know what to say to this post.
Is it really news that Da-Lite is now partnered with some new mount manufacturer to hock their wares and has an industry standard mount selector at their site?
https://www.da-lite.com/products/index.php?cID=13
I went through their list of manufacturers for flat panels and there is like 30 manufacturers listed! Have you seen the competition?
Peerless:
https://www.peerlessmounts.com/
Right from their main page, it's there on the left with about 100 manufacturers and mounts designed for every product that is listed!
That's worth noting since I put in a NEC 701 display (70" LCD) and the Da-Lite manufacturer doesn't even have a mount which works with that large 260 pound model.
Chief:
https://www.chiefmfg.com/
Once again, right there on the main page on the right.
Again, with a solid 100+ manufacturers.
Premiere:
https://www.premiermounts.com/
This is one of the smaller manufactuers, and still a solid 60+ companies listed and right there on the left side of the main page.
Frankly, instead of worrying about what mount fits your TV, I would be looking for a mount that isn't a poorly built piece of junk.
A lot of the flat panel mounts do a great job.
For projectors, I have never - EVER - seen a mount that touches the quality of the Chief RPA Elite series. The Peerless one which is similar is second best, and still isn't close.
Heck, we should all be getting universal mounts anyway at this point.
Post Reply