Cubans Allowed Cell Phones for First Time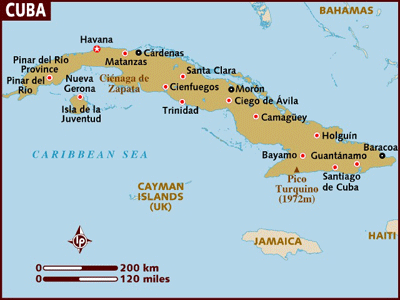 Cubans get cell phones... for a price
This week hundreds of Cubans filled the streets to get their first ever cell phone - something that had, until now been barred for anyone except authorized government officials and foreigners. The state-owned telephone offices started taking orders and delivering phones to residents after President Raul (brother of) Castro began easing restrictions on purchasing and using cellular phones. Owners of illegal cell phones, or those licensed in someone else's name could also register for actual service with no penalties.
Sometimes we think technology takes a while to hit the U.S. from the east, however listen to some of these quotes taken from a Reuters story:

"It is an advance, like other things that are happening in Cuba now," said Alejandro, smiling with his new contract in hand. The self-employed Cuban has used a cellular telephone illegally for years in the name of a foreigner.

"Before we had to get the line through a foreigner, who was the only person authorized to do so," said Mayerlin, a mother of two, waiting in line for her telephone.
The service costs the equivalent of nine months pay for the average wage-earner. To put this in perspective that would be like paying roughly $28,500 here in America. Hey, at least the health care is free!

"It is a very good measure, but what we earn does not correspond with the price," said 33-year-old Gustavo, who nevertheless waited with around 100 others at an office in Havana's colonial district to buy the service.
According to the state sponsored newspaper Gramma, ETECSA (which is 27% owned by Italy's Telecom) said the revenues will be used to fund telecommunications development and the connectivity revolution in Cuba.

Communist Cuba currently has the lowest rate of cellular telephone use in Latin America. Instead of opting for subscription fees, Cubans will use prepaid calling cards bought in hard currency. The good news is that they will be able to make and receive International calls, something that is bound to unleash a wealth of new information and awareness to a country that has been rather closed to the outside world.
Tight restrictions still remain in place on Internet access in homes and on foreign travel, though the government announced that Cubans will be able to buy computers and DVD players next month for the first time, if they have the hard currency to pay for them. Just two years ago, banned DVD players were being confiscated by airport customs officials on arrival in Cuba.
wire posts on April 16, 2008 21:28
markw, post: 401375
I think it's nice that they let all those people in jail have phones.
Humm
You must think Cuba is one Big jail .
It seems Little by Little for the Cubans . What is the downside to all the new rule changes , only time will tell . I heard that land titles and one currences is next .
smurphy522 posts on April 16, 2008 09:59
I can se it now driving around that 56 chevelle with the Moto brick in hand.


markw posts on April 15, 2008 16:37
I think it's nice that they let all those people in jail have phones.
corey posts on April 15, 2008 16:10
Raul is Fidel's brother, not his son.
stratman posts on April 15, 2008 13:23
Now that's progress! The vaunted (by nuts everywhere) "worker's paradise" of the Caribbean finally gets cell phones, anyone want to bet they'll be "tapped" by the government? It won't be like here where it takes a few key words to get the computer to monitor you, there it'll be all the time.
Post Reply