Crestron Embraces Apple iPad Touch Screens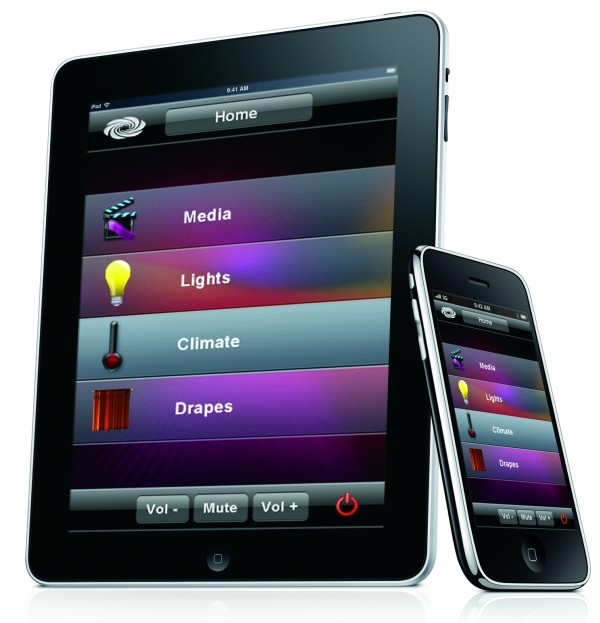 iPad Embraced by Crestron
Crestron Mobile and Crestron Mobile Pro control applications now provide systems designers and developers with effective new abilities that simplify and expand the look of Crestron and Prodigy touchscreen controls on Apple iPads and iPhones. Adding many more features towards the already robust, best selling control application, built-in support for indicators and sliders now allows developers to simply create amazing intuitive finger touch control effects very quickly. Lowering shades within the bed room with a swipe of the finger on an iPad, iPhone or iPod device, or setting and checking room temps from animated graphical indicators is easy. Also, homeowners and facilities managers are now able to view streaming video from video security cameras or from any available video source via a Crestron Network Video Streamer or any MJPEG device, directly on their mobile product.
Bigger GUI projects are now able to be loaded directly to the mobile device, permitting more compact control systems to operate full-featured touchscreen layouts. The most recent version from the Crestron Mobile application improves Apple iPads and iPhones to genuinely take part in the Crestron touch panel family. So now, the characteristics of full Crestron and Prodigy touch sections can be found in a mobile format.
Offered by the iTunes App Store, Mobile Pro G was recently rated #1 Top Grossing iPad Lifestyle Application, called the only industry iPad Application to attain Top 100 status within the iTunes App Store "Top Grossing iPad Apps" category.
Almost all the programming abilities of VisionTools Pro-e, Crestron's comprehensive touchscreen design software, are usable when creating GUIs for Apple mobile products. Using VT Pro-e, developers can make stunning touchscreen control interfaces which are fully integrated within a Crestron control network.
In this way Apple has basically put a touchpanel in the hands of millions - and made it affordable. Mobile Pro G instantly turns the iPad right into a fully-functioning Crestron touch screen. Uniting the most popular mobile device with the most effective control system provides contractors with limitless versatility in system design and GUI options, and also the homeowner or facilities manager gets mobile control abilities not formerly available, laet alone thought possible just a couple years ago.
Merging the advanced functionality of Apple's iPad and iPhone with Crestron's control innovation, Crestron Mobile and Mobile Pro applications turn any Apple mobile device into an effective Crestron or Prodigy touchscreen, enabling reliable, whole home and building control from anywhere and at anytime. From any iPad, Apple iPhone and iPod Touch, customers can control lighting, thermostats, and audio configurations and watch streaming video in multiple locations, like a primary residence, vacation office and home, or across a campus. The ultra-intuitive graphical interface also provides real-time feedback, exhibiting the status of room temps, audio volumes and metadata including album, song and artist, shade positions and lighting levels, directly on the mobile device screen.
To explore how Crestron Mobile applications can transform the mobile home control or building control experience of commercial and residential environments, check out: http://www.crestron.com/apple.
BMXTRIX posts on May 06, 2011 02:06
rnatalli, post: 809723
I guess I'm behind the times. From what I gather, this system is designed to work through 3G and Wifi networks. Can you control everything via network? What about components that only have IR for remote functions?
The iPad/iPhone talks via wifi to a base unit receiver which has control capability with relays, IR emitters, serial connections, and networking and a processor inside which runs everything. The iPad doesn't do anything but act like a dumb remote. All the real workings of the system happen inside the Crestron control system, not the iPad.
rnatalli posts on May 05, 2011 17:31
I guess I'm behind the times. From what I gather, this system is designed to work through 3G and Wifi networks. Can you control everything via network? What about components that only have IR for remote functions?
BMXTRIX posts on May 05, 2011 12:42
Interestingly, I have a iPad that I am programming this month into a Crestron control system. Not sure I have 100+ hours to develop a perfect GUI for it from scratch, but the client will gain control of their 8 zone system in their home and get all the added benefits of the iPad on top of the Crestron interface.

Instead of a $2,000+ Crestron touchpanel, they do it with the iPad and a $100 application from Crestron. Still, pricey for the Apple store, but cheap in the world of Crestron.

Oh, and don't forget the dock to match!


Post Reply