Comcast Xfinity TV Streaming App Announced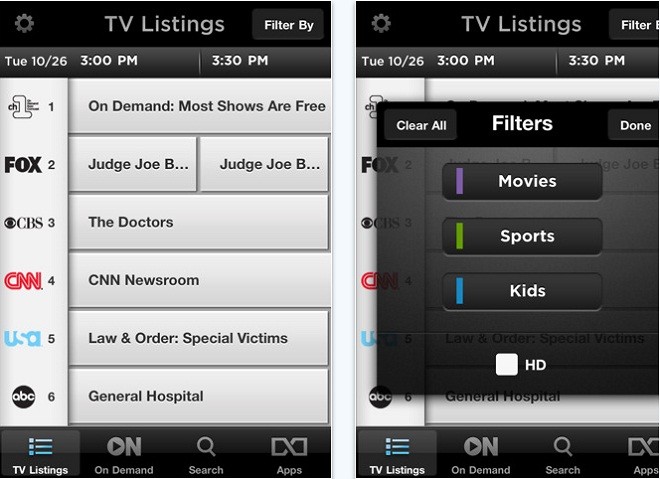 Comcast Xfinity TV Streaming App
Comcast Corporation today unveiled its new Xfinity TV app, which will enable Xfinity TV digital customers to watch TV shows and movies directly on the iPad either at home or on-the-go in the coming weeks. The Xfinity TV app is a TV guide and a mobile video player all in one. It enables customers to change TV channels from the iPad and helps them to search and instantly find what to watch among thousands of choices – including top movies and premium cable shows – on TV, On Demand, online or on the iPad. Demonstrated today at the Web 2.0 conference in San Francisco, the first version of the app will be available on the iTunes Store this week and is free to Comcast digital customers. With it, customers will be able to:
Browse and discover video content from either TV listings or selections from the On Demand library in a rich user interface with colorful poster art and details.
Use it as a TV guide so, in just a few finger taps, users can find what to watch by reviewing their TV listings and change the channel in real time.
Program their DVRs to record TV shows, series and movies so they never miss their favorites.
Sort content based on different filters like Networks and Genres such as Movies, Kids, Sports, or by HD content.
Search by keyword or by title A-Z in TV listings or On Demand.
Watch movies and TV shows directly on the iPad anytime, anywhere (coming in December).
Personalize viewing with a "MyTV" feature to create a "Watchlist" of favorite TV shows and movies (coming soon).
Seamlessly access social networking sites to share what they're watching with others (coming soon).
Initially, Comcast will offer hit shows and blockbuster movies from the top premium networks on the app. In the coming weeks and months, the app will continue to expand its content and functionality through a series of regular development updates. It will include thousands of additional entertainment choices, added remote control features, and enhanced search across platforms.
"This Xfinity TV app is part of a much larger effort to reinvent the way consumers interact with their televisions by transforming the way they search, navigate, discover and share entertainment. The remote control hasn't changed in years and this app will enable millions of consumers to instantly search thousands of live TV and On Demand choices and also watch the best content whenever and wherever they want."
- Neil Smit, President of Comcast Cable
This week's launch on the iTunes Store is the first in a series of scheduled app releases Comcast's development team will deliver for iPad, iPhone® and iPod touch®. Comcast will launch several Android™ apps this year and also plans to offer apps with similar functionality on as many different devices as possible including BlackBerry® and other smartphones, tablets, laptops and PCs. Comcast first offered its popular communications app on the iTunes Store for free to customers in 2009, which enables customers to view integrated email, voice mail, receive home voice mail alerts and manage calendars, among other features.
The Xfinity TV app is another example of the company's larger commitment to deliver more choice and control to its customers through its Xfinity services, which include 150,000 online entertainment choices through Xfinity TV (at www.xfinitytv.com) as well as other applications that enable customers to program a DVR from the Internet or a mobile device, and cross-platform features like Caller ID to the TV and PC.
To learn more about the iPad app, please visit www.xfinity.com/tvapp. 
About Comcast Corporation
Comcast Corporation is one of the nation's leading providers of entertainment, information and communication products and services. With 22.9 million video customers, 16.7 million high-speed Internet customers, and 8.4 million Comcast Digital Voice customers, Comcast is principally involved in the development, management and operation of cable systems and in the delivery of programming content.