Columbia House is Back with Blu-ray - We Do the Math!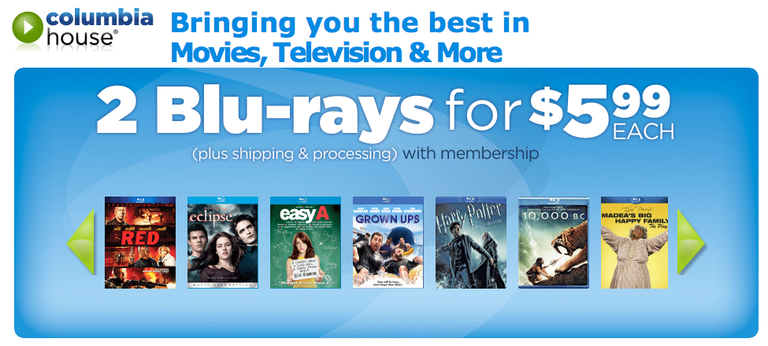 Columbia House is back with Blu-ray!
Back in the 80's and 90's Columbia House was a big deal. I can still remember the postage stamp stickers they used to send, where you could search out and select your favorite albums and then plaster them onto your order sheet. I always wondered if they laced the stamp glue with some kind of mind-altering drug to get me to want to buy more CDs... It never seemed to work in any event. The best way to use the service was always to sign up with them to get a bunch of CDs - including the minimum amount you needed to purchase to fulfill the agreement over the next several years. Then, you could immediately cancel the contract since the requisite number of purchases were fulfilled. That avoided the monthly hassle of having to send back the silly CDs they sent you automatically. To be honest, the process was always painful for anyone who didn't do the math and close everything out up front.
Now Columbia House (or Direct Brands, as the parent company is named) is back - this time with Blu-ray discs. The deal is very familiar. As of July 1st you can go to www.columbiahouse.com/blu-ray and enroll in the Blu-ray Club. The offer is 2 Blu-ray discs for $5.99 each plus "shipping & processing" and then you have to buy 3 more at regular club prices - currently starting at $19.95 plus "shipping and processing".
So what's the catch? Well, here's the fine print (which isn't very fine):
As a member, you will receive our Club mailing about every three weeks (up to 21 times a year) announcing the Director's Selection, the hottest title of the month and promoting a special offer...plus scores of Blu-rays to choose from, many at extra-special prices. If you want the Director's Selection, do nothing-it will be shipped to you automatically. If you do not want to receive the Director's Selection, simply check the appropriate box on the Order Card and mail it back to us so we receive it by the date specified. You can also respond by phone or online at our website You will always have at least 10 days to respond. If you have less time and receive an unwanted Director's Selection, simply return it unopened at our expense and we will credit your account.
Ugh. Having to send back a DVD you probabaly don't want... every three weeks? Not my cup of tea. So, if you're like me, you're issuing a sigh of angst and looking back at your time with Columbia House thinking: "Are people really still this dumb?" Well, let's find out.
Cause we did the math. 
We had to estimate the "shipping and processing" because Columbia House won't disclose what that is until you actually give them your credit card information and sign up - and honestly, we're just not that dedicated. So we're basing our numbers on prior history with their DVD club pricing - of which we are familiar (from RESEARCH!) Columbia House's DVD Club shipping charges come to $2.99 for your first DVD, and then $1.99 for each additional one in the same shipment.
If you do the math, assuming the initial 2-Blu-ray purchase followed by individual Blu-ray purchases once per month, here's what you get:
  5.99 - Discounted BD disc
  2.99 - shipping and processing
  5.99 - Discounted BD disc
  1.99 - shipping and processing
19.95 - Regular club pricing for BD disc
  2.99 - shipping and processing
19.95 - Regular club pricing for BD disc
  2.99 - shipping and processing
19.95 - Regular club pricing for BD disc
  2.99 - shipping and processing
- - - -
$85.78 for 5 movies = $17.15 per movie shipped
So if you think this is a good deal, go for it. In our opinion, it's probably not worth the hassle and you can easily pick up the same or better deal at Wal-mart or online, saving yourself the hassle of the monthly mailers. But it's not a total rip-off either, especially if you happen to like their $19.95 selections and order everything all at once and then cancel.
What do you guys think? Is this a deal? Let us know what you think.
RockRover posts on July 15, 2011 16:25
Back in the 80's? Heck in the 70's, when I was 12, I signed up with Columbia record and tape club. I fell for the lure of seven 8 track tapes for a penny deal. I got screwed and learned a lesson.

Then later in college while I was living in a fraternity, we got the bright idea that we would "sign" up for every one of the "special" club deals we could…Using aliases of course!

Over the next several weeks and months we had new books, CD's, tapes, etc delivered to the frat house. Then the collection notices came…Then finally a series of collection agents came to the door looking for Mr. Bobby Butcheease, Mrs. Megan Fartzalot, Suzzy Wrotencrotch, and others. Needless to say the look on the collectors face as they realized who they were looking for was priceless!
j_garcia posts on July 08, 2011 15:09
Used to like them but their practice of automatically sending you something every month got me really irritated, especially when it wasn't something I was interested in. They would KILL you with inflated shipping too. The initial deal was great, but they made up with it with their "regular" pricing, which ended up being something I could find for less online or locally and ultimately wasn't worth it in the long run except when they had sales.

The kicker was when I tried to cancel them…at first they wouldn't do it saying that I had not fulfilled my total purchases. I had, but they argued and I ended up having to go around and around with them over it. Then I had to call them and tell them to stop sending me offers to come back!! Forget them.
MrPirate2882 posts on July 08, 2011 14:55
Pricing

You could save a couple of bucks if you bought the 3 commitments at the same time (then shipping would only be $1.99 each for the 2nd and 3rd).

However, they also tend to have a lot of offers like Free Shipping, B1G1, etc that could bring the costs down. if you did a B1G1 with all 3 commitments you'd get 6 for the price of 3 (though you'd pay for shipping 6 instead of 3). the guys at DVD Talk manage to do a pretty good breakdown if you can find it.
jeffsg4mac posts on July 06, 2011 13:32
I have done them all at one time or another throughout the years. A few months ago I did the Disney movie club. I did the math and it figured out to be something like 12 bucks a blu-ray which is not a bad deal.
gholt posts on July 06, 2011 11:37
I think I did both the Columbia House and BMG. I never did the math at the time. So, I think I stayed on too long.
Post Reply