Coby Kyros MID7015 Android Tablet Preview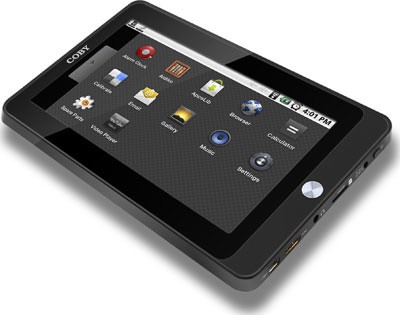 Coby Kyros MID7015 Android Tablet
Coby has introduced a budget-minded Android tablet, the Kyros MID7015. Coby is known for making very inexpensive products and selling them in various retail stores to consumers looking for rock bottom prices on value-oriented electronics. This is, as far as we know, their first Android product - and it shows just how pervasive Android is getting in the marketplace. The tablet features a seven-inch 800x480 display and 4GB of internal memory. You can add additional storage through the use of a standard microSD card. The Android 2.1 platform is powered by an 800MHz processor. Because of the more advanced features of Android 2.1, the system is capable of HDMI output in 1080p and 720p resolutions provided the hardware cooperates.
The Kyros is just the newest of many budget Android tablets showing up on the market before Christmas. The group of Android tablets includes the Maylong iPad clone ($100) and the Augen tablet ($150). The Kyros specs also closely match the CherryPad America tablet, which sells for $188.
Features
Large 7" Resistive Touchscreen

Connect to the Internet wirelessly

Browse the web and check e-mail

Watch videos on YouTube

Integrated flash memory

Built-in 4GB internal memory

microSD card slot(upgrade up to 16GB)

Connect and enjoy Full 1080p on your HDTV via a HDMI cable

Discover and download apps to play games, check the weather, listen to the radio, and more with AppsLib

Download and read thousands of books with the included Aldiko E-book reader application

View pages in portrait or landscape with automatic orientation detection

Full-size USB connection enables keyboard of your tablet

USB 2.0 Hi-speed for fast file transfers

Rechargeable lithium-polymer battery

Specifications
CPU Type: Telechips TTC8902

CPU Speed: 800 MHz

Memory Type: Flash

Memory Max: Built-in 4GB/Expandable up to 16GB

Display Size: 7"

Display Type: Resistive Touch

Display Resolution: 800 x 480

Aspect Ratio: 16:9

WLAN Type: WiFi 802.11 b/g

Audio Input Mic

Audio Output: 3.5mm headphone & Built-in Speaker

Video Output: High Speed HDMI, type C (mini), Supports 1080p and 720p

USB Port: Full-size USB host (for keyboard)

Text Format Support: ePub format

Additional Functions: Compatible with Microsoft® Windows® XP, Vista, 7 or higher and Mac OS or Linux in mass storage mode

OSD Menu Languages: English (U.S), French (France), German, Traditional Chinese, Simplified Chinese, Italian, Spanish, Portuguese (Brazil), Korean, Japanese, Russian

OS Support: Android 2.1

Battery Type: Rechargeable Li-poly battery

Battery Capacity: 3200mA

Unit Dimension (WHD): 0.48" x 7.5" x 4.75"

Unit Weight: 0.9 lbs

The Kyros is now available at retailers for a suggested price of $250.
ragged posts on December 09, 2010 15:02
Rather get a viewsonic g tablet. Install the software mods shown on xd-developers.com and it blows away any other tablet out there, including ipad. (If you can copy/past, the mods are easy)

It's fast with tegra 2 and android 2.2, 7 hours battery life streaming movies) front facing camera, full flash based websites, android market, (yes free angry birds on a 10" screen!) usb input (supports thumb drives and recognizes network storage), LAN port and hdmi out with docking station, bluetooth, (yes a bluetooth gps works!!) plus, when thinkflood releases android version for it's redeye mini early next year, you have a killer universal remote.
Rob Babcock posts on December 08, 2010 00:28
I wonder if that bad boy could be used as a universal remote?
Post Reply