CES 2011 Show Floor Update from Robert Silva
by
Clint DeBoer
—
January 06, 2011

Contributors: Robert Silva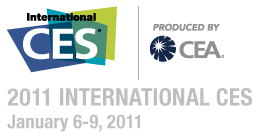 CES 2011 Show Floor Update
We've been working closely with Robert Silva of About.com, even providing the occasional CES 2011 Podcast from time to time over at AV Rant. Be sure to check out Robert's CES 2011 Blog reports over at About.com. This morning we got some really interesting show floor snippets that centered around 3D display technology and some very cool choices and design moves by some of the major players in the market. Without further ado, here are some of today's tidbits:
LG
The display company is taking a new stand with 3D, so it seems. What is it? Well, they seem to be listening to consumers (and perhaps watching the stocks rise on headache medicine). Their new unofficial mantra? Active 3D Shutter Glasses: BAD, Passive 3D Glasses GOOD. How serious about this are they? Well, for starters, the word from the show floor and representatives is that all LG 3D LCD TVs going forward are going to use passive glasses technology. Whoa... seriously? In our opinion, this is potentially excellent news. After all, that's how you view this content on the big screen.
Now, what does this mean in terms of technology? Well, for starters, LG is going to need to solve the problem of resolution. If you take a 1920x1080p display and make it work with passive 3D, you'll lose half your resolution, typically ending up with 1920x540 per eye (or similar). It would seem, and we couldn't not for the life of us get the Korean specialists on hand at CES to confirm this, that LG is going to have to make a hardware push towards higher resolution displays. Now, whether that takes the form of 1920x2160 or an even higher 4K resolution set is anyone's guess - but it seems necessary if they want to legitimately shame the industry into following suit and dropping these ugly, overpriced 3D monstrosities that are hitting the market in spades. From LG:
FPR delivers full HD picture quality, as well as creating a vivid, immersive 3D experience. FPR also does not produce flicker or crosstalk, both major criticisms of SG technology. Excessive flicker has been the source of complaints over eye fatigue and poor picture quality, as well as serious health concerns like photosensitive epilepsy.

Dr. James Sheedy, Director of Optometry Research Center at Pacific University in the US, commented concerning his comparison of SG and FPR, "Problems with the SG type panel included the weight of the glasses, power consumption and reduced brightness. However, LG Display's FPR 3D panel has no flickering, produces minimal cross talk and delivers a bright screen. Also, the glasses can be made with curved lenses, like regular glasses, so it is superior in terms of protecting eyesight."

Different from the bulky, battery-powered glasses used by SG displays, LG Display's FPR utilizes lightweight and comfortable polarized glasses that emit no electromagnetic waves, allowing consumers to enjoy long hours of comfortable viewing. FPR clip-on shades are also available for prescription glass wearers, replacing the need to wear two sets of glasses with SG displays. Finally, whereas SG glasses severely restrict flexible head movement which cause the glasses to go dark, FPR allows users a fuller range of movement such as lying down on a sofa without losing 3D picture.
Sony
Sony also Demonstrated 56-inch glasses-free LCD TV. Are you starting to see a new trend here? We had thought that perhaps this might be the same platform as the Toshiba - but the Toshiba actually looked a little better. As with all demos, this could have actually been more of a statement about the difference in the source material used. One thing is for certain, Sony is a major player and if they are also looking at a glasses-free solution, then perhaps the industry is coming to grips with the realization that 3D can only succeed in the market if it's convenient, comfortable, and affordable for all.
To let you know how serious Sony was about 3D, their entire booth was all 3D, with the notable exception of the Google TV area. They also had Seth Rogen and Jay Chou (who plays Kato) from the new Green Hornet movie on hand to pose alongside the Green Hornet Car (they actually had the clean car as well as a bullet-riddled version).
Panasonic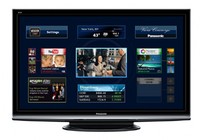 Panasonic had an entire line of 3D camcorders (there were 5 in all) and three new 3D Blu-ray Disc players (which they debuted back at CEDIA with only minimal information and fanfare). Panasonic also seems to be playing catching up with everyone else on Internet TV apps and is finally introducing them, by way of a system called Viera Conect, in its new line of televisions. Perhaps the most compelling aspect of this new Internet-connected platofrm is the presence of the Samsung-style Viera Connect Market, which lets you download third-party developed applications to your TV. Unfortunately, the track record for connected TV apps is a bit on the disappointing side. And with the existing Android and iPhone app markets in full swing, it's a wonder if developers are ever going to have time to roll out too many tweaked versions for the Yahoo Widgits and VUDU app platforms that seem to be showing up in more and more televisions.
Samsung
Samsung is boasting of the thinnest bezels for LCD TVs - and we mean thin. They are so thin, in fact, that Samsung reps are walking around dubbing the sets virtually bezel-less. In reality the edge around the screen is about the width of a pencil - and it's very impressive indeed. Samsung has been in the ultra-thin bezel business for some time - but it's always been their commercial division. Now they seem to be bringing that expertise to te consumer market. With bezels that thin, it won't be long before you can simply hang your TV on the wall and mount a standard matted picture frame around it. The company is also adding more to 3D lineup and changing screen sizes. Because of the thinner bezels the company figures it should reclaim the space - and why not, they are manufacturing their own glass, they can do what they want. Get ready to see 43" and 56" displays instead of 42" and 55" models. Bigger is better in this case - we're all about big TVs.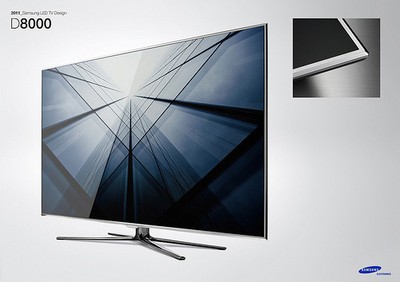 Sharp
Did we mention big TVs? What can we say. Sharp seems to be going forward with bigger and better TVs - and attempting to make them more affordable than ever before. Behold the 70inch Quattron LC-70LE732U 3D LED LCD TV. It uses Sharp's Quad Pixel technology that, as so famously demonstrated by George Takei on TV commercials, adds Yellow to the normal Red, Green and Blue color pixels. This is a 120Hz "X-Gen" panel and uses Sharp's full array LED backlighting. The LC-70LE732U is the largest display in the Quattron series and replaces the former reigning 60-inch king as early as this Spring. It also includes Wi-Fi and apps like Netflix, CinemaNow, Facebook, Pandora, Twitter and Flickr (via Vudu apps). In addition to Gigantor, Sharp also announced its AQUOS Quattron 835 Series 3D LED LCD TVs which are available in 40", 46", 52", and 60" sizes.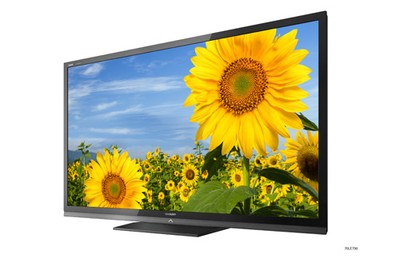 Vivitek
Vivitek didn't fail to impress when it announced several interesting video projectors. There were a series of inexpensive 3D projector for presentations and gaming including the D512-3D, D536-3D and the D538-3D. What was impressive was that all provided 2D to 3D conversion on the fly and the estimated MSRPs are expected to be between $899 and $1,299. Not bad. The D512-3D is native SVGA (800x600), the D536-3D is native XGA (1024x768), and the D538-3D is native WXGA (1280x800). Lumen output is as follows: 2600 lumens (D512-3D) | 3200 lumens (D536-3D and D538-3D). All projectors boast a 3000:1 contrast ratio and connectivity options include HDMI, VGA, S-Video, composite, RS-232, Mini-Jack audio-in, and RCA audio-in. a rapid on/off feature allows for quick start up and shut down. All three projectors will be available in May 2011.
The company also entered the Pico projector category with the Qumi (pronounced Q-me), the company's new line of LED-based pocket projectors. Weighing in at only 1.6 pounds, the Qumi is apparently the first pocket projector to be 3D-ready via Texas Instruments' less-than-stellar DLP Link technology (we saw a train wreck of a demo of this back at CEDIA). The Qumi has a native WXGA (1280x800) resolution and puts out up to 300 lumens of brightness. It claims a 2500:1 contrast ratio and weighs just 1.6 pounds. The dimensions of the unit are 6.3"W x 1.2"H x 3.9"D and the LED lamp is rated to over 30,000 hours of operation. Connectivity options include Mini-HDMI, Universal I/O (24-pin connector for VGA/component input), 3.5mm video-in, 3.5mm mini-jack audio-out USB and MicroSD slots for content and memory expansion. A built-in 1W speaker gives you at least minimal audio capabilities and the projector is offered in a black or white finish. Availability is expected in May 2011 and the estimated street price is a very reasonable $499.
Stay tuned for more on our home page as we roll out additional coverage and be sure to check out Robert's page over at hometheater.about.com as he updates it throughout the day!
DaJuice posts on January 06, 2011 16:58
I wish I could make it out to CES this year.
Post Reply