Preview: CEDIA Future Technology Pavilion Living Room

CEDIA Future Technology Pavilion: Living Room
Planning on going to CEDIA this year? The show is September 7-10, 2011 in Indianapolis, Indiana at the Indiana Convention Center. Indianapolis is one of the original host locations for CEDIA EXPO and is the home to CEDIA International Headquarters. Since the last time CEDIA EXPO was held in Indianapolis in 2005, the Indiana Convention Center has been expanded to add more than 250,000 square feet of exhibit/meeting space. Additionally, the new Marriott Place hotel complex features more than 1,300 rooms. Enjoy this exclusive first look at the living room of the CEDIA Future Technology Pavilion:
The room will feature a massive 22-foot video wall. Short throw, edge-blended projectors provided by Digital Projection enable the consumer to have a very large screen with multiple video feeds without having to see any of the technology. The edge-blended screen provided by Stewart Filmscreen is used in a configuration never seen before in a residential setting.
A/V and control signals will be distributed using existing power line infrastructure with the help of Wi3.
Also on display in the living room are the next generation of invisible, tactile speakers provided by Triad. These speakers require significant detail when installing, but once complete, provide a completely invisible solution.
Audio Design Associates will provide amplifiers which will play music throughout the pavilion.
The Future Technology Pavilion will be controlled through a Crestron user interface.
Symbol Logic has partnered with CEDIA to provide design documentation for the Future Technology Pavilion. Click here to see the full plan.
This year's pavilion will simulate a home environment, featuring technologies for the kitchen, bath, bedroom, living room, home office and garage. Find out what's next for your business and the industry, and what technologies and products you are going to be able to offer your clients at CEDIA's Future Technology Pavilion. The 2011 pavilion will simulate a future home environment with rooms focused on technologies for the kitchen, bath, bedroom, game room, and garage. Many of the products in the 2011 Future Technology Pavilion include a massive - yet elegant- video wall, smart appliances, wireless power for cooking and charging, fully integrated home health and wellness, and immersive gaming. The pavilion offers you and your business insight on what you need to learn now to be profitable later. The Future Technology Pavilion is open during tradeshow hours.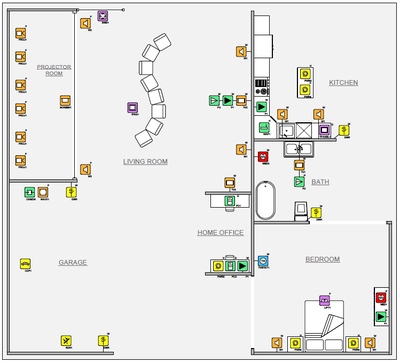 Stay tuned for room-by-room previews of the rest of the pavilion as CEDIA EXPO approaches. For more information about the Future Technology Pavilion or to schedule an interview with a CEDIA representative email [email protected].