Canton Ergo Line Gets 8 New Models, Upgraded Crossovers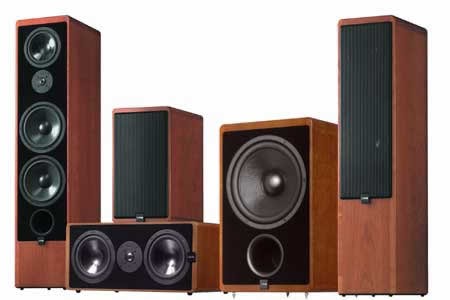 MINNEAPOLIS (10/15/03) -- Canton has introduced eight new loudspeakers in its premium Ergo line, including a new powered subwoofer and seven full-range models featuring new crossover technology for a remarkable refinement in the line's already formidable midrange and high frequency reproduction. New models include a trio of three-way floorstanders, two bookshelf speakers, two 2-1/2-way center channel speakers, and a 200-Watt powered subwoofer, and all are available in silver lacquer, black, beech, and cherry wood veneer finishes.
The new Ergo full-range models incorporate significantly improved crossover networks that are based on technology developed for the company's signature Karat Reference 2 DC loudspeaker system. By improving the overall quality and accuracy of the crossover components Canton was able to deliver an audible improvement in sound quality. These changes include the use of highly regarded ICW polypropylene capacitors, which have led to a marked reduction in dielectric absorption or "memory" effects giving the models improved transient response and detail. The new crossover design also realizes a significant reduction in microphonics that results in a measurable improvement in mid-range and high-frequency reproduction.
The new Ergo center channel speakers are 2-1/2-way designs optimized for horizontal mounting. The speakers use a centrally-mounted tweeter flanked by a pair of identical anodized aluminum drivers, one driving only the bass frequencies and the other driving bass and midrange. This configuration prevents wide variations in off-axis response due to cancellation between paired woofers, and improves midrange linearity. This overall design provides linear frequency dispersion even at listening angles as far as 30 degrees off-axis.
All the Ergo models feature Canton's legendary 1-inch Aluminum-Manganese tweeter, which delivers exceptional off-axis dispersion and a highly linear response all the way out to 30 kHz, well beyond the range of most loudspeakers. The tweeter's diaphragm and coil former are fabricated from a single piece to dampen high frequency resonances and provide dramatic improvement in heat dissipation characteristics.
The floorstanding Ergo models feature Canton's exclusive Displacement Control (DC) technology, which uses a proprietary high-pass filter to prevent signals below the audible frequency range from interfering with the bass driver. In conventional speakers, these signals can generate high levels of unwanted harmonic distortion in the audible lower bass range, causing a muffled or "blatty" tonal quality. DC technology allows the speakers to provide clear, linear bass reproduction at much lower frequencies than would otherwise attainable.
The Ergo line combines outstanding sound quality with good looks. The standard finishes include real wood veneers of cherry, light beech, and black ash, or a brilliant silver lacquer, however the Ergo 202, 302, CM 402, and CM 502 have black lacquer finishes instead of black ash. The black and cherry speakers have perforated black metal grilles, while the beech and silver lacquer models have silver grilles.
Ergo 1002 DC and 902 DC Floorstanding Speakers
These three-way bass reflex floorstanding models feature extremely broad and linear frequency response from 20 Hz all the way out to 30 kHz, making them ideal for use as full-range speakers in a dedicated stereo system, or as front speakers for home theater. The Canton Ergo 1002 DC features two 9-inch polypropylene woofers, while bass reproduction in the smaller Ergo 902 DC is handled by a pair of 8-inch woofers. Both models include the 7-inch aluminum midrange diaphragm and 1-inch tweeter used throughout the line. There are gold-plated bi-wire/bi-amp connections for a variety of amplifier setups. The Ergo 1002 DC and 902 DC have suggested retail prices of $3,000 and $2,400 per pair, respectively.
Ergo 702 DC Floorstanding Speaker
This three-way floorstanding speaker is the smaller cousin of the 1002 DC and 902 DC, using on 7-inch aluminum cone for bass, and another for midrange duties. At 8.5-inches wide, 35.4-inches tall and 11.3-inches deep 8.5, the Canton Ergo 702 DC maintains the broad frequency response characteristics of the Ergo line, providing hi-fi reproduction from 25 Hz to 30 kHz. All other features are the same as the 1002 DC and 902 DC. The Ergo 702 DC has a suggested retail price of $1,800 per pair.
Ergo CM 502 and CM 402 Center Channel Speakers
These bass reflex compact loudspeakers are magnetically shielded for use as the center channel in a home theater system, and employ a Canton-designed 2-1/2-way crossover circuit to prevent the poor dispersion characteristics that plague most horizontal dual woofer center speakers, The Canton Ergo CM502 features two 7-inch aluminum membrane drivers flanking a single 1-inch aluminum-manganese tweeter and boasts a frequency response of 26 Hz to 30kHz. The Canton Ergo CM 402 uses 5-inch aluminum drivers and the same tweeter for a frequency response of 35 Hz to 30 kHz. The CM 502 is 19.7-inches wide, 8.9-inches tall, and 11.3-inches deep, while the smaller CM 402 is 15.9-inches wide, 5.9-inches tall, and 8.7-inches deep. The Canton Ergo CM 502 and CM 402 have suggested retail prices of $800, and $600 each, respectively.
Ergo 302 and 202 Bookshelf and Stand-Mounted Speakers
These compact two-way bass reflex speakers are designed to be equally at home on a shelf, or in conjunction with the optional LS 60 stand. The Canton Ergo 302 uses an 8-inch aluminum cone for the bass, while the Ergo 202 employs a 7-inch version. Both speakers feature gold-plated bi-wire/bi-amp connections to accommodate a variety of amplifier setups. The Ergo 302 and 202 have suggested retail prices of $1,400 and $1,200 per pair respectively.
Ergo AS-1.2 SC Powered Subwoofer
The Canton Ergo AS-1.2 SC Powered Subwoofer features a 10-inch Cellulose/Polyester woofer and 200 Watt amplifier in an attractive bass-reflex enclosure. It employs Canton's exclusive SC Technology with active electronic filtering to compensate for the acoustic characteristics of the enclosure and driver. This circuit blocks unwanted infrasonic signals, which can cause excessive driver excursions, and improves the speaker's linearity across the frequency range. SC Technology also increases the speaker's efficiency and stability for higher output levels, and reduces harmonic distortion for greater clarity. The Canton Ergo AS-1.2 SC Powered Subwoofer has a suggested retail price of $1,000.
Canton Electronics Corporation is the US distributor for Canton Elektronik GmbH., Weilrod, Germany. Canton is the largest manufacturer and best-selling brand of loudspeakers in Germany. It was founded in 1973 by a group of audio enthusiasts who defined their mission simply "to always develop the finest loudspeakers in their class." Since the late 1970s, Canton products have been available in the in the U.S., where they are popular with quality-focused specialty retailers and custom installers.
For more information about these and other fine Canton products, go to www.cantonusa.com or call 612-706-9250 for the name of your nearest Canton dealer.
View Additional Canton Information
# # #
Canton USA
1723 Adams Street N.E.
Minneapolis, MN 55413
(612) 706-9250