Canon Introduces Realis SX50 LCOS Projector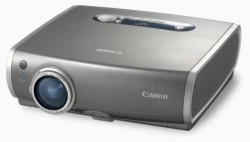 LAKE SUCCESS, N.Y. - Oct. 6, 2004 - After years of research and development, Canon today introduced a product intended not only to impact the presentation and multimedia industry but also to add new light to advances in projection technology. A product of superior Canon optical engineering, Realis SX50 is a revolutionary new multimedia projector with super-high (SXGA+) resolution utilizing Canon's patented proprietary AISYS (Aspectual Illumination System) technology, which delivers high brightness and high contrast with outstanding image quality in a compact size.
"The new Realis SX50 multimedia projector takes the place as Canon's premiere multimedia product equipped to satisfy a wide variety of user needs and environments," said Yukiaki Hashimoto, senior vice president and general manager of the Consumer Imaging Group of Canon U.S.A., Inc., a subsidiary of Canon Inc. (NYSE: CAJ - News). "Canon has advanced LCOS technology while optimizing other critical projection demands. Up until now, manufacturers have been unsuccessful in achieving an LCOS projector that could deliver both high brightness and high contrast in a small size. Canon's extensive expertise in the field of optics paired with our proprietary AISYS technology has enabled us to unlock the true potential of LCOS."
Whether it's home-theatre enthusiasts watching HD-quality movies, architects and engineers viewing intricate technical details, professional photographers scrutinizing digital photos, or teachers and business professionals presenting visual materials in vibrant color, the Realis SX50 projector's 1400 x 1050 SXGA+ performance exceeds expectations.
At the core of the Realis SX50 projector is Canon's proprietary AISYS (Aspectual Illumination System) optical technology, a patented means of achieving both the high brightness of 2500 ANSI Lumens and a contrast ratio of 1000:1 while also reducing projector size. AISYS fully maximizes the performance of LCOS (Liquid Crystal On Silicon) technology, which has major advantages over traditional projection methods, including higher (SXGA+) resolution, seamless imagery, enhanced performance on motion images, and superior display of text.
A true breakthrough product, the Realis SX50 projector is completely designed and manufactured by Canon. The projector weighs only 8.6 lbs. and features a genuine Canon high-performance 1.7x optical zoom lens that can project a 100-inch image on a screen from 9.8 feet away. A projector well suited for the HDTV era, the Realis SX50 projector can display true 16:9 720p HD broadcast images. And for digital cinema enthusiasts, the Realis SX50 projector's special 2:3 pull-down circuitry converts interlaced 480 and 575 video to progressive-scan imagery.
The Realis SX50 projector also features Multiple Image Modes that provide a wide range of options depending on user needs. These Image Modes include four Color-Preset Modes, which are designated as Standard, Presentation, sRGB, and Cinema.
The Standard mode produces images closely resembling the original input source, with an emphasis on white areas.
The Presentation mode increases contrast between bright and dark areas to make it easier to see detailed diagrams and text often used in presentations.
The sRGB mode is the color space used in most digital cameras, which is an international standard to unify color reproduction and color spaces as defined by the International Electrotechnical Commission (IEC).
The Cinema mode is the most suitable mode for projection of moving images; it emphasizes gradations to produce Realistic depth and dimension.
Additional Image Modes of the Realis SX50 projector include: Dynamic Gamma Correction for optimum contrast balance; Six-Axis Color Adjustment to fine-tune tone and contrast adjustments on both RGB and CMY color axes; a Greenboard Mode to adjust colors for optimal display on green chalkboards; and Memory Color Correction for photo display of colors based on subjective human recollection.
Professional photographers will particularly be interested in the Realis SX50 projector's sRGB mode, six AXIS color-adjustment features; the projector's realistic photo reproduction (for color processing that allows for optimal reproduction of metallic objects) and skin-tone reproduction (for seamless, pattern-free images that reproduce outstanding skin tones) capabilities.
The Realis SX50 projector includes multiple input jacks and connectors, and can accept a wide variety of digital and analog computer-display formats. Other inputs include DVI video and all major component, composite, and S-video inputs. All connectors attach from the side of the projector housing, making for a more attractive presentation environment.
Suitable for front or rear projection, the Realis SX50 projector measures (W x D x H) 11.26" x 11.18" x 3.78" (286 x 284 x 96 mm) and comes complete with a wireless remote control, connector cables, and a soft carrying case. In addition to such standard features as digital keystone adjustment, PIN Code Lock & Key Lock, a user-friendly menu system (in 13 selectable languages), ceiling mount compatibility, and RS-232 control/USB mouse control, the projector also offers several optional accessories.
The Realis SX50 multimedia projector will be available in early November from authorized Canon dealers at an estimated street price of $3,999*.
Canon U.S.A., Inc. delivers consumer, business-to-business, and industrial-imaging solutions. The Company is listed as one of Fortune's Most Admired Companies in America, and is ranked #35 on the Business Week list of "Top 100 Brands." Its parent company Canon Inc. (NYSE:CAJ - News) is a top patent-holder of technology, ranking second overall in the U.S. in 2003, with global revenues of $29.9 billion. For more information, visit www.usa.canon.com .
*Prices subject to change at any time. Actual prices are determined by individual dealers and may vary.