Candlestick Park Renamed by Monster Cable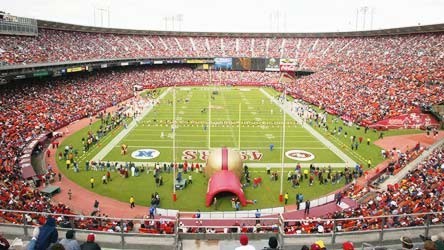 SAN FRANCISCO (AP) - Some fans think 44-year-old Candlestick Park is already a dinosaur. Now the San Francisco 49ers' home stadium has the name to match. The team announced Tuesday a 4-year agreement with Monster Cable Products Inc. that will change the stadium's name to Monster Park. Many of the signs around the stadium will be updated in time for Sunday night's home game against the St. Louis Rams.

The city-owned stadium opened on April 12, 1960, as the home of the Giants.
The 49ers played their first game there in 1971. (Jed Jacobsohn / GettyImages)
Monster Cable is based in the Bay area city of Brisbane and is best known for its high-performance stereo speaker cables. It beat out Oracle, Virgin USA, Wells Fargo, Macromedia and Organic Inc. among companies seeking the naming rights.
Team officials said the company's name was a good fit for a professional sports stadium, noting the Chicago Bears' legendary "Monsters of the Midway" (soon to be sued by Monster Cable, no doubt) defense and Fenway Park's fabled left field wall, "The Green Monster." (also under consideration for lawsuit) "It plays well," said David Peart, the 49ers' vice president of sales and marketing. "Monster Cable has a culture that's very aggressive (especially with lawsuits), really upbeat - they call it 'monster attitude,"' he said. "We feel the 49ers have had that monster attitude, as well." (but without the lawsuits)

The 49ers, who have started the season 0-3, and the city will split the proceeds evenly, with each getting at least $3 million. Monster and 49ers officials would not release the exact amount of the winning bid. The city-owned stadium opened on April 12, 1960, as the home of the San Francisco Giants. The 49ers played their first game there in 1971. It originally was named Candlestick Park after the point of land it sits on and was called 3Com Park from 1996 to 2001. It reverted to its original name after the 3Com deal expired.
The Giants left when Pacific Bell Park (now SBC Park) opened in 2000. The San Francisco Board of Supervisors voted in July to authorize the sale of the stadium name. A few board members objected and placed a local measure on the November ballot that would require the stadium to retain its Candlestick name. It's not clear whether that measure, if approved by voters, will have any effect on the naming-rights contract signed Monday.