Cambridge SoundWorks Ships PlayDockXM Speaker System for Delphi XM Radio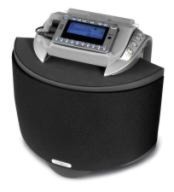 ANDOVER, Mass. - Cambridge SoundWorks, a leading audio manufacturer and retailer, today announced shipment of its PlayDock(TM)XM Speaker System. Designed exclusively to support Delphi XM Roady(TM) and Roady 2 satellite radio receivers, the PlayDockXM offers XM Satellite Radio users lifelike, dynamic sound comparable to a home stereo. Because it is the first speaker system designed for satellite radio that features a rechargeable power source, PlayDockXM can be used cord-free in a wide variety of locations, with no concern for replacing batteries. PlayDockXM retails for $199.99. Cambridge SoundWorks is a wholly owned subsidiary of Creative Technology Ltd.
"Up until now, XM Satellite Radio users have had no transportable speaker system for their Roady receiver," said Rob Mainiero, Vice President of Business Development for Cambridge SoundWorks. "We believe that, in terms of audio fidelity, the Roady and PlayDockXM combination realizes the promise of digital satellite radio better than any other combination out there today."
Easy Connection and Portability
PlayDockXM provides the high quality sound of a stationary audio system, yet easily moves from location to location without the need for AC power. The system's built-in rechargeable battery plays for up to ten hours. The Roady or Roady 2 receiver attaches easily to PlayDockXM's flexible silicone rubber "glove" holder. PlayDockXM comes complete with a Hi-gain XM antenna and pouch, allowing the Roady owner to leave their existing antenna installation intact, eliminating the need to set up the antenna each time.
Cambridge SoundWorks' No-Compromise Approach to Audio Design
PlayDockXM's sophisticated audio design employs main speakers for each stereo channel (left and right) plus a third larger bass speaker mounted on the front of the system. This larger speaker works with the sturdy, well- sealed PlayDockXM enclosure to provide significantly better bass response than any similarly-sized portable speaker system.
The PlayDockXM also has separate amplifiers for each of the three speakers, providing more output than most portables. It also has a special stereo-enhancement button labeled "Wide." The Wide circuit increases the apparent width of the stereo soundstage even if the user is outdoors.
Pricing and Availability
PlayDockXM retails for $199.99. It can be purchased directly at Cambridge SoundWorks' retail locations, on the Internet at http://www.cambridgesoundworks.com or by calling 1-800-FOR-HIFI. It is also available through select retailers including Best Buy, Crutchfield.com, and www.xmradio.com .
About Cambridge SoundWorks
Cambridge SoundWorks, Inc. manufactures over 70 different models of home- stereo, home-theater, multimedia speakers and assorted electronics products. It sells its award-winning stereo speaker products and sound systems, as well as other brands of high-performance audio and video products direct to the consumer through its retail stores, online at http://www.cambridgesoundworks.com, and through its catalog and Call Center operation at 1-800-FOR-HIFI. Cambridge SoundWorks has partnerships with some of the country's leading consumer electronics retailers where its products are also sold, including Fry's Electronics, J & R Music and Computer World and Amazon.com. Cambridge SoundWorks products are also sold globally via parent company, Creative Technology Ltd. -- the worldwide leader in digital entertainment products for PC users.
About Creative
Creative is the worldwide leader in digital entertainment products for users of the personal computer and the Internet. Famous for its Sound Blaster(R) sound cards and for launching the multimedia revolution, Creative is now driving digital entertainment on the PC platform with products like its highly acclaimed NOMAD Jukebox. Creative's innovative hardware, proprietary technology, applications and services leverage the Internet, enabling consumers to experience high-quality digital entertainment -- anytime, anywhere.
Cambridge SoundWorks and PlayDock are registered trademarks or trademarks of Cambridge SoundWorks, Inc. and/or Creative Technology Ltd in the United States and/or other countries. All other brand names and products mentioned herein are either registered trademarks or trademarks of their respective owners and are hereby recognized as such.