Cabasse Pacific 3SA Floorstanding Speaker Preview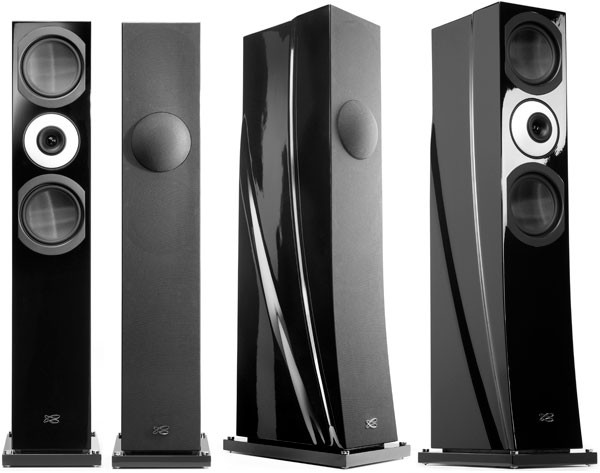 Cabasse Pacific 3SA Floorstanding Speaker
Cabasse, who has been making speakers for more than 60 years, has announced a new high-performance loudspeaker named Pacific 3SA. StJohn Group, exclusive U.S. distributor for Cabasse in the United States and Caribbean, announced immediate availability of the speaker at a retail price of $9,990 each. The statuesque 51" tower loudspeaker, a new reference model within the company's Artis range, is the first tower fitted with the company's innovative 17cm (6.7") BC17 coaxial driver unit.
Based on the SCS (Spatially Coherent System) principles developed by the Cabasse laboratory in Brest, France, this unit consists of a dome midrange-tweeter and ring-shaped low midrange-woofer membrane, providing constant control of the sound directivity all along its 175 - 20,000 Hz bandwidth.
The twin 8.3" honeycomb dome woofers flank the BC17 drivers and are powered with a 450 W Cabasse built-in amplifier, providing in a slim cabinet, powerful and controlled LF response down to 37 Hz and deeper. The required cabinet depth has been reduced by 20% through the use of an innovative technical solution, which enables fine tuning of the LF for easy positioning and amplifier matching.
Cabasse has also announced a passive version of the speaker, called Pacific 3 to be available in January, 2011 at a retail price of $7,710 each.
"Audiophiles and music lovers who have long preferred the ubiquitous tower speaker form factor for a number of good reasons (proper seating height, precise imaging, minimal use of floor space, etc.), but have always wanted the performance of a discrete subwoofer, can now have their cake and eat it too. With the advent of its powered low frequency section, the Pacific 3SA delivers the performance of a 2.1 discrete subwoofer architecture in a timelessly designed two-channel package. Has Cabasse re-written the rules of audio or physics? We'd like to think so. But what remains undisputable is the unmatched level of musical satisfaction and value that such a design will deliver."
- John Caldwell, sales director and co-founder of StJohn Group
Features
Technology – point source driver alignment offers extraordinary phase alignment and mitigates room boundary effects for a more lifelike performance.

Innovative – Stealth, ultra-thin grilles with magnetic link fastening

High Performance – high power handling and efficiency for demanding music or soundtracks.

Style/Design – high-quality gloss black or pearl finish, immaculate fit and finish, remarkable attention to detail
The Pacific 3SA, like all other Cabasse speakers, incorporates Cabasse's proprietary Spatially Coherent System (SCS) technology. Imagine three stones hitting the surface of a lake at three different points. The created waves will mix and propagate erratically. Now imagine three stones hitting the surface at the same point. The waves grow and spread harmoniously. This single source emission (or point source) is the benefit of the co-axial drivers and wide-range tweeters designed by the Cabasse R&D team. Fidelity to original timbres and dynamic range, a wide, stable and full soundstage, are the benefits of SCS technology.
The co-axial technology by Cabasse is a major innovation in the loudspeaker world because its principle is the closest proposal to the theoretical ideal. It results from the 60 years experience Cabasse has in driver design and development
Specifications
Type: 3-way floorstander with active bass
Drivers: 1 x coaxial BC17; 2 x 21ND34 21 cm woofers
Sensitivity 1W/1m: 91.5 dB
Cross-over points: 175 Hz - 1,830 Hz
Frequency response: 38 - 20 000 Hz
Nominal impedance: 8 Ohms
Minimum impedance: 4 Ohms
Power handling: 150 W
Peak power: 1000 W
Standard finish: Glossy Black – Glossy Pearl
Dimensions: 50.8 x 11.4 x 19.3 in. (129 x 29 x 49 cm)
Weight: 92 lbs (42 kg)
About Cabasse
Founded by Georges Cabasse in 1950, the company has been a pioneer in the search for true musical reproduction. In all likelihood, the quest really began in 1740 when the first signed Cabasse violin was made. Five generations of musical instrument craftsmen followed, pursuing the tradition and supplying Europe with violins, violas and cellos, most of which are still being played in orchestras today.
Cabasse's continuing obsession is to faithfully and perfectly reproduce music and soundtracks, without any alteration, coloration or distortion in the sound. This boundless passion has led the company to relentlessly innovate, design, and engineer better and better loudspeakers, so that all ears can enjoy the essence and thrill of sonic purity.
haraldo posts on December 20, 2010 11:40
scott911, post: 775273
What doesn't make sense haraldo? I've never heard of this group before to be honest, so I'm not at all disputing what your saying… just curious.

I do know THIEL is founded is solid science, and are probably one for the most respected in the speaker field, and they also advocate a couple similiar principles.
I don't doubt the fact that this is probably excellent speakers and Cabasse has a long history of making audio products, I just find it quite amusing when they claim that they with this speaker has rewritten the laws of physics; I don't see anything from the specs about this that makes me think of such a big revolution, there are others who've made speaskers with "coindident" mid/tweeter for a long time… in different variations… Vaf, Kef, Thiel, Manger (Audio Physic Medea), now also Vienna Acoustics and Cabasse….. you can also loom to Audio Physic Kronos with a combination of a more ordinary mid driver and a scan speak ring radiator in the middle…
I believe this is very good things, but nobody rewrites the laws of physics by doing this….. well Audio physic with it's Kronos is probably closer to rewriting the laws of physics than Cabasse ever been… with a -5dB point at 10 Hz (anechoic)
scott911 posts on December 20, 2010 10:40
What doesn't make sense haraldo? I've never heard of this group before to be honest, so I'm not at all disputing what your saying… just curious.

I do know THIEL is founded is solid science, and are probably one for the most respected in the speaker field, and they also advocate a couple similiar principles.
haraldo posts on December 20, 2010 08:21
Wow… if the technical engineers is just as skillful in their engineering as the marketing people are in making nice speeches then this must be an incredible product

Did they make Einstein obsolete by rewriting the laws of physics
Post Reply