Buy.com Ups the Digital Music Ante with 256K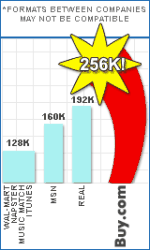 ALISO VIEJO, Calif., Sept. 7, 2004 - Buy.com, the Internet Superstore, today announced that a significant portion of the over 500,000 songs offered for download in its Digital Music store are now available in extremely high definition 256K Windows Media Audio. Buy.com continues to gain market share in the digital music category by consistently growing its music selection and improving download quality. As an option for customers with slower Internet connections or limited storage space, Buy.com will continue to offer the 128K bitrate on all music available in 256K, at the same price. Buy.com's music downloads are priced at $0.79 or $0.99, with the top 100 singles always available at the $0.79 price point.
As part of a continued effort to provide customers with the highest quality of downloadable music, Buy.com's Digital Music store offers most of its major label catalogs in the highest definition audio currently available from a major digital music service. Virtually all of Buy.com's top songs from Sony, BMG, Universal and EMI are available for download in 256K WMA files with over 125,000 tracks re-encoded to provide customers with the absolute best listening experience possible.
According to Elizabeth Brooks, Buy.com's Senior Vice President of Digital Music & Business Development, "Digital music is maturing and the playback systems are maturing as well. With the evolution and mainstreaming of home networking, consumers' digital music collections are no longer heard only through their computer speakers or the headphones of their portable music players, but in surround sound and within the most sophisticated home theater systems. We think this is a step in the right direction and are excited to provide our consumers with the highest quality digital music now available for purchased download.''
Buy.com, as a leader in the home networking field, realizes that audio quality is an increasingly important consideration in digital music. The addition of the 256K catalog is in part a response to customer demand for a better-sounding "audiophile'' product.
"Buy.com is excited to be able to offer our customers such a wide selection of songs in 256K. We look forward to continuing to pioneer the development of this young and rapidly growing part of the music business,'' said Doug Marrs, Vice President of Sales & Merchandising.
Buy.com provides digital music customers with exciting promotions and everyday great deals. In addition to offering the Top 100 digital singles for only $0.79 each, Buy.com will also offer 20 free music downloads to customers who purchase RCA's 20 GB Lyra Jukebox MP3/WMA Player starting September 9th.
About Buy.com
Buy.com(r), The Internet Superstore(tm), offers its over 7 million customers more than 2 million products in a range of categories including computer hardware and software, electronics, cellular products and services, music, DVDs, books, toys and more. Individuals and businesses can shop quickly and easily at Buy.com 24 hours a day, 7 days a week. Buy.com was named one of the Top 50 web sites in 2002 and 2003 by Internet Retailer, the top performing site on Gomez Inc.'s E-Holiday Shopping 2002 Index in the music, electronics and books category (December 2002), ``Best Overall Place To Buy Mobile Devices'' (January 2002), ``Best E-Commerce Site'' by PC World magazine (June 2001), ``Best Overall Place To Buy'' by Computer Shopper Magazine (January 2001), a ``Best of the Web'' in the computer and electronics category by Forbes Magazine (spring 2000 and fall 2000), and the No. 1 electronics e-tailer in the PowerRankings by Forrester Research, Inc. (November 2000). Buy.com, founded in June 1997, is located in Aliso Viejo, California. For more information, visit http://www.buy.com . Buy.com(r) and The Internet Superstore(tm) are trademarks of Buy.com, Inc.