Brillian Launches New 65-inch LCoS HDTV Monitor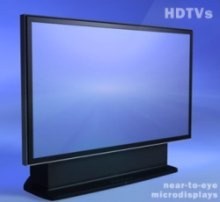 TEMPE, Ariz., July 1 - In a move to ensure early market input is incorporated into its 720p HDTV product design, Brillian Corporation (Nasdaq: BRLC - News ) has signed on a limited number of high-end, Phoenix Audio/Video (A/V) dealers to begin marketing its 65-inch Gen II liquid- crystal-on-silicon (LCoS(TM)) HDTVs.
This program, which begins today, will serve two functions: first Brillian is establishing a partnership with local A/V dealers as an extension of its product marketing team, and secondly, it is giving the local Phoenix community the opportunity to evaluate and order its locally developed and manufactured product ahead of the national rollout.
Later this summer, the HDTVs will be marketed under private label by Brillian's first national retail channel partner.
"We're delighted to be a part of this premier pilot program through Brillian," said Jerry Kowitz, owner Jerry's Audio-Video, a retailer of high- end entertainment systems that has served the Phoenix area for more than 35 years. Jerry's Audio-Video is the first of a number of high-end retailers that will carry the product. "The Brillian HDTV's ultra-high contrast, grayscale performance, brightness, clarity, dark state and color saturation levels are quite extraordinary," Kowitz said. "With a history of introducing the latest A/V technologies in our showrooms, customers in the Phoenix market expect to find the latest technology at Jerry's. We believe that our customers will be as impressed by this product as we have been."
Manufactured in the U.S., the sleek, Euro-design HDTV is based on Brillian's patent-pending Gen II LCoS(TM) technology. Offering a 65-inch, 16:9 widescreen with artifact-free, full-motion video, the HDTV is the highest contrast (up to 2000:1) LCOS rear-projection TV available today
"As a company, we believe in the viability and value of having our corporate headquarters based here in Tempe, Arizona," said Vincent F. Sollitto, Brillian president and chief executive officer. "That's why we are particularly pleased to give this opportunity to local high-end retailers to showcase our new HDTVs. Many potential customers here are quite knowledgeable about the nuances of high-performance HDTV products and know how to differentiate one technology from another. And if they don't, there are experts like Jerry's Audio-Video here in Scottsdale to give them the full run- down on what makes our Gen II LCoS(TM) product so compelling."
About Brillian Corporation
Brillian Corporation designs and develops rear-projection HDTVs targeted at retailers and their end-user customers looking for breakthrough performance and image quality that sets a benchmark in HDTV price/performance. The company is the first and only provider of Gen II LCoS(TM) technology used in these products. In addition to its high-definition televisions, Brillian also offers a broad line of LCoS(TM) microdisplay products and subsystems that OEMs integrate into proprietary HDTV products, multimedia projectors, and near-to- eye products such as monocular and binocular headsets. Brillian's LCoS(TM) microdisplay technologies address the market demand for a high-performance display solution with high image fidelity, high-resolution scalability, and high contrast ratios. The company's website is www.brilliancorp.com .
Brillian is a registered trademark and LCoS is a trademark of Brillian Corporation. All other trademarks are the property of their respective owners.
Certain statements contained in this press release may be deemed to be forward-looking statements under federal securities laws, and Brillian intends that such forward-looking statements be subject to the safe-harbor created thereby. Such forward-looking statements include expectations regarding the marketing of the Company's HDTVs under private label by its first national retail channel partner later this summer. Brillian cautions that these statements are qualified by important factors that could cause actual results to differ materially from those reflected by the forward-looking statements contained herein. Such factors include (a) changes in markets for the company's products; (b) changes in the market for customer's products; (c) the failure of Brillian products to deliver commercially acceptable performance; and (d) other risks as detailed in Brillian's Annual Report on Form 10-K.