Boston Acoustics Intros New MicroSystem CD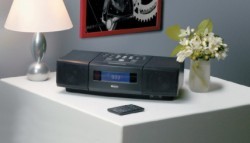 Boston Acoustics, Inc. presented its new tabletop entertainment center to the recording industry's top performers - including many who performed at the 47th Annual GRAMMY Awards.
Alicia Keys, Black Eyed Peas, Tim McGraw, Sheryl Crow, and Gretchen Wilson were among the stars who received personal models of Boston Acoustics new MicroSystem CD , before the show and went on to win GRAMMY Awards during the ceremonies. The MicroSystem CD is a high performance CD/AM/FM tabletop entertainment center that produces audiophile-pleasing sound, with built-in conveniences that make it easy for anyone, recording industry superstars included, to use and enjoy.
Additional performers and presenters receiving the coveted audio system include Kanye West, Ludacris, Marc Anthony, and the members of Green Day, Blind Boys of Alabama, Los Lonely Boys, Maroon5, and Velvet Revolver - all of whom also earned GRAMMY ® Awards. The MicroSystem CDs were presented in the Bratz British Invasion Talent Lounge, where Boston Acoustics was selected to be the sole audio sponsor. The Lounge was backstage at the Staples Center in Los Angeles, site of the award ceremonies.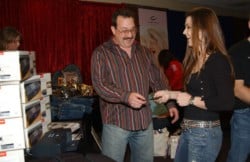 Other GRAMMY-show performers and presenters receiving MicroSystem CDs in the lead up to Sunday evening included Awards Show Host Queen Latifah, Anthony Hamilton, Billy Preston, James Brown, Eve, Jennifer Lopez, Joss Stone, Lisa Marie Presley, Mavis Staples, Melissa and Tammy Etheridge, Penelope Cruz, Amy Lee, Tyra Banks, Dickey Betts, Stephen Tyler, Elvin Bishop, John Legend, Quentin Tarantino, Ricky Martin, Rob Thomas, T-Bone Burnett, and the members of Franz Ferdinand and Hoobastank.
The MicroSystem CD delivers rich, room-filling sound with space-friendly style. Small, elegant, and sophisticated, it combines a radio and CD player with big stereo audio and over a dozen listener-friendly features. Convenient inputs for iPods ® and MP3 players, a slot-loading CD, a big and bright LCD display, dual alarm clocks, back-up power for the alarms, connections for headphones, and a magnet-backed, credit-card size remote control make it ideal for any room in a house, an office or a dorm - as a compact stereo system or a bedside companion.
Its superb ability to pull in weak stations separates the MicroSystem CD from other 'shelf systems', while precision circuitry locks in FM stations, eliminating drift. Patent-pending BassTrac ® circuitry produces deep bass out of proportion to the system's compact size.
Of course, the MicroSystem CD's new GRAMMY-winning owners, will also enjoy The Boston Sound ™, an acclaimed feature of all Boston Acoustics speaker systems that reproduces music and movie sound with exceptional accuracy. The Boston Sound delivers the music and sound effects that recording artists intend with a pure neutral tonal consistency that remains the same for all Boston Acoustics speakers.
The MicroSystem CD is available from authorized Boston Acoustics dealers at a suggested price of $499.
About Boston Acoustics
Founded in 1979, Boston Acoustics, Inc. designs, manufactures, and markets high performance audio systems for use in home music and audio-video systems, after-market and OEM automotive systems, and custom built-in audio systems. Highly regarded for creating The Boston Sound™, the company is renowned for delivering superior, competitively priced products emphasizing performance, consistency and value. For further information, visit the company's Web site at www.bostonacoustics.com .