Boardwalk Empire Season 1, Blu-ray Review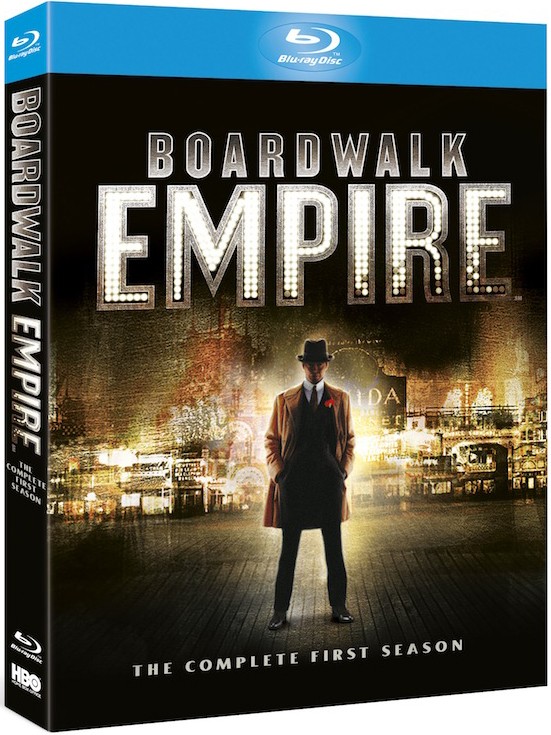 Director: Martin Scorsese
Starring: Steve Buscemi, Shea Whigham, Michael Pitt, Michael Shannon
Writer/Producer: Terence Winter 
Studio: HBO
Release Date: Jan. 10, 2012
If there is one disappointment in the first season of HBO's Boardwalk Empire it's that there is simply no way for any dramatic series created by mere mortals to live up to this show's expectations. Directed by the legendary Martin Scorsese, written by Terence Winter (writer/producer of The Sopranos) and staring Steve Buscemi - in a big-budget series that features the rise of prohibition-era Atlantic City, the pedigree is just too much for a mere TV show to live up to. But Boardwalk Empire nearly pulls it off – the result is must-see premium-TV.
Boardwalk Empire arrived to HBO to much fanfare. Here was Scorsese teaming up with the Sopranos writer, Buscemi and Mark Wahlberg in a production that tackles a 1920s gangster story in the rise of a historic character from Atlantic City. This was going to blow the lid off anything that came before! But first seasons are always a challenging balance between introducing the cast while driving the story. Some were disappointed and claim that the series didn't really take off until Season 2. But having only seen this season - I'm thoroughly intoxicated by this prohibition-era story. Season 1 is a powerful introduction to what I trust will be many more seasons of a successful dramatic show.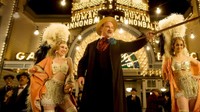 Buscemi plays the charismatic local leader Enoch 'Nucky Thompson, city Treasurer and puppet-master based on the real-life Nucky Johnson. Nucky takes advantage of the 18th Constitutional Amendment prohibiting the "manufacture, sale or transportation of intoxicating liquors" to turn the Boardwalk of Atlantic City into a lucrative bootlegging enterprise. Peopled by a fascinating cast of supporting characters including Nucky's brother Eli (Shea Whigham) the corrupt local sheriff, his right-hand man Jimmy (Michael Pitt) a WWI vet whose ambition brings him into contact with legendary gangers of the era, including Al Capone, Boardwalk Empire reels you in from the pilot. 
The foil for Nucky, but not quite a hero, is an agent of the fledgling Federal Bureau of Investigations, Nelson Van Alden (Michael Shannon) played with fanatic puritanical intensity.
It's easy to be seduced by the mythos and glamor of America in the 1920s. The screenplay, cinematography, costumes and sets in Boardwalk Empire take every advantage of the distinct look of the time. Witnessing it for the very first time in full 1080P resolution with lossless 5.1 surround sound-track is exactly how this series deserves to be seen.
But a bump in sound and video quality isn't the only reason fans of Boardwalk Empire should spring for the Blu-ray box-set. There is enough extra material here to satisfy fans of the show and anyone who wants to learn more about this fascinating era in American history.
If you've only watched the show, it's easy to overlook the meticulous attention to the historic detail that went into the production. Watching any episode in Enhanced Viewing Mode (EVM is an HBO Blu-ray mainstay) opens your eyes to how brilliantly the producers have woven so many accurate details into the story.
Video
Video codec: MPEG-4 AVC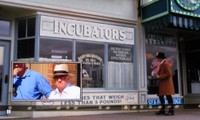 Video resolution: 1080p
Aspect ratio: 1.78:1
It's sad that most people will only get to view a show with this much visual range on a horribly compressed feed from a cable or even satellite TV provider. A majority of the HDTVs in people's homes are capable of so much more vibrance than most households (without the benefit of Blu-ray) are feeding it.
Boardwalk Empire visually takes us from sunny, bright days on the Boardwalk to shadowy nights in its seedy underbelly. This range is captured beautifully in this MPEG-4/AVC-encoded presentation. Past HBO Blu-ray releases (such as The Pacific) have proven the network is capable of second-to-none digital video remastering. But unlike The Pacific or its European Theater counterpart Band of Brothers, Boardwalk Empire doesn't appear to try to overly tint the color palette or temperature for mood. The colors of the Boardwalk are bright, bold and warm with a hint of period-inspired cinematic effect with occasional sepia tones. Although the video presentation is near perfect, the Blu-ray format is so revealing that sunny outdoor scenes of the Boardwalk itself exposes minor edge enhancements and digital elements in the distant background. But it's hardly jarring. On the contrary, it's breathtaking to see how meticulously they restored Atlantic City; every long-shot of the Boardwalk on a sunny day is a feast for the eyes.
Audio
English: DTS-HD Master Audio 5.1
French: DTS 5.1
Spanish: DTS 5.1
Spanish: DTS 2.0
True to Scorsese's style, the DTS-HD Master Audio soundtrack is surprisingly musical for a show about gangsters. It may not be widely known that the period that gave us the speakeasy also put music and drinking together in the same establishment for the first time (special features have given me an education about the period). Raucous, booze soaked parties with 1920s swing in the air are detailed and rich. Equally impressive are the fragments we see of on-stage performances accompanied by a live band.
But Boardwalk Empire is far from a musical, the show uses the soundtrack to set the mood even when it's not so celebratory. Whether it's a Tommy gun or a popping champagne bottle, the soundtrack handles spikes with sonic weight and detail. But the dialogue is handled with just as much clarity and attention with a clear, articulate center channel.
Special Features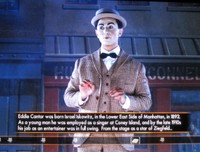 The special features are where the long awaited Blu-ray release really shines. If you're even casually interested in the time period or the historic characters Nucky Thompson and others are based on you'll find hours of extras to sink your teeth into.
Enhanced Viewing Mode (EVM): This is where you get to see how much detail went into creating accurate period and location shots. It also provides insight into Scorsese's direction and insistence on getting every shot just right.
The basic idea of HBO's EVM system is that you watch full episodes with a series of icons along the bottom of the screen. When the show gets to an icon you're treated to a pop-up, either text or picture-in-picture screen brings insights into the current scene. It would be an annoying way to watch the show for the first time – but HBO's EVM is great supplementary viewing for after you've watched the episode.
Skipping from icon to icon, cherry-picking the insights into the episode you've just watched is fascinating. You'll be stunned at how so many of the side characters are real people, like Eddie Cantor, you can look them up.  Eddie was just a passing character but had a career as a vaudeville stage-performer for decades before appearing on television and writing books.
The baby incubator was a real thing too, just a quick scene in the pilot episode that has a story behind it. As a side-show exhibit, premature babies were literally kept alive by these incubators. The public paid 25-cents to see tiny babies fit their arms into wedding rings and sit in a hat with a teacup on its head. Exploitive for sure, but it was a system that was put to good use saving lives. That's just one of the strange oddities of the era EVM reveals.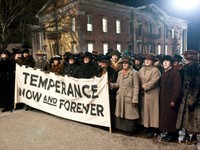 Speakeasy Tour: 24 minutes. A documentary on prohibition-era Chicago and New York featuring some of the hang-outs characters from Boardwalk Empire frequented.
Atlantic City: The Original Sin City: 30-minutes. The documentary explores Atlantic City's history and how it went from mosquito infested island to tourist center.
Creating The Boardwalk: 5-minutes. A look into how the 1920s boardwalk was recreated for the series. This highly detailed set is only 300 feet in length, but digital-effects wizardry makes it look seven miles long on camera.
Overall
If you've never watched the series yet, you're in luck! You couldn't ask for a more pristine viewing. Season 1 introduces a lot of characters but never seems to suffer for it. It's a must for fans of the show that might want to review the first season as they wait for season 3. The special features and insights alone are enough to keep the Boardwalk Empire Blu-ray box-set close to your television for months.