Blockbuster to Stream Movies with Samsung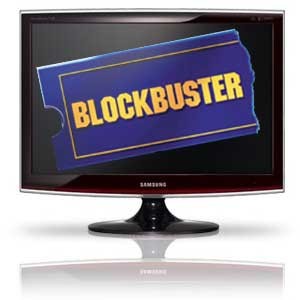 Samsung embraces Blockbuster (too!)
Blockbuster announced today that they are embedding streaming technology into select Samsung televisions, home theater systems and Blu-ray players to enable consumers to access Blockbuster's growing library of premium digital entertainment. The new services will be available next quarter ("in the Fall" according to the release info). Additionally, as part of the agreement, Blockbuster OnDemand will have preferred positioning on the Blu-ray interfaces.
A little background may be in order so that consumers can understand the various nuances of these recent decisions. For one, Blockbuster announced in an SEC filing back in April that "the risk that it may not complete a deal to amend its credit facilities raises "substantial doubt" about its ability to continue". Let's couple that with the fact that Netflix, ever expanding and adapting to the digital world, has already signed agreements with the top four LCD TV manufacturers in North America: Vizio, Samsung, LG and (most recently) Sony.
We love competition, but Blockbuster's announcement is about a pay to download/stream service - something that Amazon is already doing and has been working inroads on for the last year or so. Netflix, who offers mostly non-new release movies and TV shows, includes these streaming services for free with their rental service. Once again, the company that single-handedly brought DVDs rentals into your home on a mass-market scale has been unable to lead the industry and is simply following behind picking up whatever remaining pieces it can gather.

One thing that is nice is that the BLOCKBUSTER OnDemand service provides on-screen search and browsing capabilities, as well as full details, ratings, trailers, and other information about each movie directly on the television. Unlike Netflix' system, customers don't need to manage a viewing queue on their PC. Once a customer rents or buys a movie, they simply press play to begin instant viewing. Blockbuster's system does have adaptive streaming technology which will alter compression based on the available bandwidth and maintain uninterrupted playback.

Blockbuster's marketing department says:
"This agreement underscores the growing opportunities around digital delivery and the plan to make the BLOCKBUSTER brand as available on screens as it has always been on storefronts. The Blu-ray players BLOCKBUSTER will feature represent the perfect bridge between physical stores and digital delivery by providing streaming digital access to the newest hit movies and high definition Blu-ray product, which is available in our stores and through BLOCKBUSTER By Mail," said Jim Keyes, Blockbuster Chairman and CEO. "We look forward to working with Samsung to showcase their select products in Blockbuster stores while making Blockbuster's digital library available in homes across America."
The alliance also includes the sale of Samsung Blu-ray players with the integrated BLOCKBUSTER OnDemand service at Blockbuster's thousands of participating corporate-owned stores and franchise stores and online at blockbuster.com, in addition to Samsung's existing retail channels.

The companies expect to have the BLOCKBUSTER OnDemand service integrated into new Samsung Blu-ray disc players and HDTVs by the fall of 2009. Consumers who already own select 2009 Samsung Blu-ray players and home theater systems, as well as Samsung LCD and Plasma HDTVs Series 650 and above, and Samsung LED HDTVs Series 7000 and above, can access the BLOCKBUSTER OnDemand offering at no additional charge by conducting a firmware upgrade (Blu-ray players and home theater systems) or downloading the BLOCKBUSTER OnDemand widget (HDTVs).
It will be interesting to see where this goes. Providing users with a selection of downloadable content might be a very good thing. Assuming Blockbuster can provide these (quickly) in HD resolutiona dn with full surround sound they may stand a chance at taking on some of the new release market and picking up where Netflix leaves off. However, if this is the same Blockbuster we've seen to-date... well, we'll just say that we won't get our hopes up.

scotbrogs posts on October 19, 2009 09:06
Myeahh, not that impressed with that. I think I'll just stick to other sources, just as legal btw.
rnatalli posts on July 20, 2009 09:47
Netflix offers free streaming with their $8.95/month subscriptions. Amazon and Blockbuster are dreaming if they think charging per movie is somehow going to work.
Audioholics posts on July 20, 2009 07:43
You can bet it will at least start as US-only…
HookedOnSound posts on July 17, 2009 22:28
Does anybody know if this service will be exclusive to the US only? I know the Blockbuster On demand units were previously available to the US residents only.

I hope that integrating this service with big brand TVs will mean they can expand this expand the service to Canada and elsewhere.
davidtwotrees posts on July 15, 2009 07:02
So, can you tell me if my Samsung BDP2550 that streams Netflix and Pandora is one of the legacy models that will be able to get firmware updates to stream Blockbuster's offerings?
Post Reply