BenQ Debuts EW/VW Series Vertical Alignment LED Monitors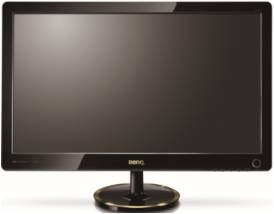 BenQ EW2420 LED Monitor
BenQ today proudly announced the release of the world's first Vertical Alignment (VA) LED monitors – The EW and VW series. The lineup of the 16:9 Full HD VA-panel LED monitors includes: EW2420 (24"); VW2420(H) (24") and VW2220(H) (21.5"). With a wider viewing angle at 178º/178º, True 3,000:1 Native Contrast Ratio and BenQ's proprietary Senseye Human Vision Technology all on a true 8-bit panel, these VA LED monitors offer a much improved picture over BenQ's former offerings.
VA LED-based panels has better color reproduction, an ultra high contrast ratio, display blacks more accurately because of its capability to produce true black with zero bright dot (ZBD) and able to minimize light leakage. To display blacks more accurately means these VA LED-based panels have better contrast and detail in dark-colored movie scenes. VA panels are also known to have a wider viewing angle (178º/178º) compared to a regular Twisted Nematic (TN) panel before notable brightness and color shifts, so your monitor can be shared across the room with more people, with more angles, more fun.
Aiming at consumers with a sophisticated taste and those who yearn for a stylish lifestyle, the VW series adopts the same design from BenQ's award winning V Series monitors (2010 iF Design Award) with a change of a gold metal ring at base, carrying forth the smooth contours and clean lines complemented by the lacquer finish. On the other hand, the EW series appeal more towards the digital video enthusiasts as it comes equipped with a wide range of ports, enhancing the enjoyment of user's video viewing without interruption. Users can keep an array of digital devices permanently plugged in simultaneously and switch between gaming console, DVD player, webcam, PC, iPod, and others without the need for plugging, unplugging and switching cables. Complementing this, it has a considerate design of headphone hanger on the back of the monitor to conveniently help users store their headsets. With EW and VW series, BenQ aims to bring superior style, connectivity, color performance and unmatched picture quality into everyone's life, from every angle.
The VW/EW Series is further enhanced by BenQ's proprietary Senseye Human Vision Technology, producing fuller, richer, clearer and more detailed images, even for the darkest scenes. Senseye 3's six preset modes give users the luxury of one-touch optimization for the most popular applications: Game, Movie, sRGB, Standard, Photo, and Eco modes. Today's on-demand consumer will likewise appreciate the VW/EW Series' ability to instantly display content when powered up, another benefit of LED over CCFL technology. Moreover, BenQ's sRGB color consistency on a true 8-bit panel (16.7M color panel) allows users to have a convenient way to get consistent colors. Be confident that the colors shown on screen are the colors to be printed.
DVI and D-Sub are equipped on all VW series while HDMI 1.3 and headphone jack are available on models designated with an "H"; whereas the EW series comes equipped with DVI-D; HDMI x2; D-Sub; USB x4; Line-in; headphone jack and 1.5W x2 audio speakers – offering diverse connectivity options consumers demand.
The VW2420(H) and EW2420 are already available in Taiwan and subsequently worldwide mid-July and mid-August respectively; whereas the VW2220(H) will be available in November. For more information, please visit www.BenQ.us.
About BenQ Corporation
BenQ Corporation, a leading provider of networked digital lifestyle devices, is a multi-faceted company with strengths in mobile communications, visual display and network and digital convergence technologies. BenQ offers unrivalled breadth and depth of products and integrated technologies across platforms through the brand promise of "Bringing Enjoyment and Quality to Life," including digital projector, LCD monitors, LCD TVs, digital cameras, mobile phones, laptop PCs, storage devices, media and human interface devices such as mice and keyboards.  2007 revenues of BenQ Corporation exceeded US$1.83 billion dollars.