Bell'O Triple Play TPC-361 AV Furniture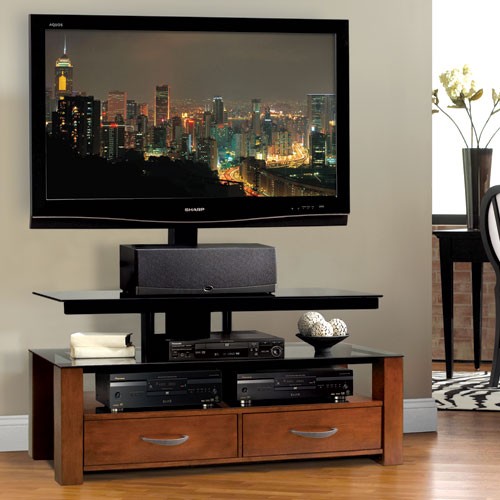 Bell'O Triple Play TPC-361 AV Furniture
Bell'O International, the design leader in luxury home theater furniture and accessories, continues to set trends with the Bell'O Triple Play TPC-361. The unit bridges the gap between traditional and contemporary style, and is uniquely designed and flexible enough to offer three different ways to seamlessly blend into any home. With an elegant blend of rich caramel finished wood and tinted glass, the TPC-361 adds style and taste to any media room.
The TPC-361 unit accommodates TVs of all types along with related electronics and a center channel speaker. It also comes equipped with a CMS Cable Management System to discreetly conceal wires and provide optimum air circulation.
With overall dimensions of 47-1/2" W x 58" H x 22" D, it will accommodate most flat panel TV's up to 55" or 125lb and at least 4 audio/video components. The rear universal swivel mounting system allows a TV to be suspended above the stand or removed to display the TV on a 3-shelf stand-alone table. The third option lets the swivel mounting system be hung on the wall. Design elements include two drawer media or other storage in a rich caramel finished wood cabinet, plus black tempered safety glass shelves and black scratch resistant powder-coated metal frame. The TPC-361 will be available in Spring 2010 with a suggested retail of $499.99.
anishnken posts on October 20, 2011 06:43
Especially internationally populated and designed collection of furnitures are so outstandingly made that it enhances one's home status and provide well furnished and comfortable look due to their high quality and stylish features.I would like to follow such supportive stuffs while purchasing.
stony posts on September 19, 2011 07:50
This international designed furniture is very unique and I must say that attractive too as it will take lots of praises from the customers.I am really glad to know about it at a particular way so that it could gather a long term sequence at a given rate.
Post Reply