Belkin TuneFM for iPod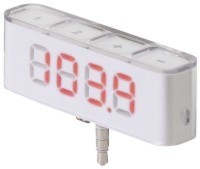 Compton, CA - October 13, 2005 - The new Belkin TuneFM lets you listen to the music from your iPod through any FM stereo receiver. Offered in a new, sleek design, the TuneFM plugs into the remote/headphone jack on your iPod. Just tune your stereo to any clear FM frequency, and you can enjoy your iPod music anywhere with full sound and fewer wires. It will be shipping in North America in November 2005.
TuneFM for iPod (F8Z015) has an MSRP of $39.99
Unlike other FM transmitters, the TuneFM features its own LED display that indicates FM frequency and memory preset-eliminating the need to use the iPod interface for frequency selection. Because the TuneFM is powered by the iPod, no batteries are required.
Features
Numeric LED Display: Shows FM frequency and memory preset on demand

Channel Up/Down: Scans in 1/01MHz intervals quickly and seamlessly

Programmable Memory Slots: Let you toggle between 2 channels conveniently

Rear Hold Switch: Locks buttons to prevent unintentional toggling or selection
About Belkin Corporation
Belkin Corporation, the global leader in connectivity solutions, offers a range of innovations for the computer, electronics, and mobile consumer. With a diverse and far-reaching product mix consisting of home and enterprise networking, VoIP hardware, audio video solutions, KVM (keyboard/video/mouse) and peripheral sharing, power protection and cabling, as well as USB and FireWire® devices, Belkin extends its reach also to Bluetooth™ , cellular, PDA, iPod®, and other solutions for mobile computing. Belkin products are available through www.belkin.com as well as through a network of major distributors, resellers, and superstores.