Belkin Intros Flip KVM for Mac mini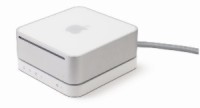 COMPTON, Calif. - July 13, 2005 - Belkin Corporation announces Flip(TM) for Mac mini, the first solution designed to share one monitor, keyboard, and mouse between the Mac mini and a second computer, saving money and desktop space. Flip is ideal for using the Mac mini as a second computer, without the expense or desktop real estate requirements of a second monitor. Flip will be available in North America in early fall 2005.
Flip for Mac mini
Touch-sensitive buttons make it fast and easy to switch computers, eject a CD, and adjust volume. Connect your speakers to Flip and use them with both computers -- without unplugging and reconnecting them each time you switch. Setup is a breeze: Flip requires no additional cables or software for installation.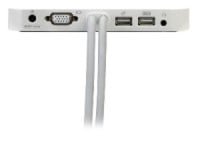 Flip is the only peripheral switching product that fully supports all Mac keyboards and function keys, including the built-in mouse hub on Mac keyboards. For PC keyboard users, Flip includes touch-sensitive buttons to control volume and eject disks on the Mac mini -- function keys that are found only on Mac keyboards.
Features
Works with USB-based Mac and PC desktop and notebook computers
Stacks below or on top of the Mac mini to save desktop space
Allows users to also share one set of speakers for both computers
Features touch-sensitive buttons to switch computers, control volume, and eject disks
Includes built-in cables to simplify installation and reduce desktop clutter
Supports all USB-type Mac and PC keyboards and mice
Works with any LCD or CRT monitor with a VGA 15-pin HDDB connector
Requires no software installation or additional cables

The Flip for Mac mini (F1DM102U) is avialable in the early Fall of 2005 for a retail price of $99.99
About Belkin Corporation
Belkin Corporation, the global leader in connectivity solutions, offers a range of innovations for the computer, electronics, and mobile consumer. With a diverse and far-reaching product mix consisting of home and enterprise networking, audio video solutions, KVM (keyboard/video/mouse), power protection and cabling, as well as USB and FireWire(R) devices, Belkin extends its reach to Bluetooth(TM), cellular, PDA, iPod(R), and other solutions for mobile computing. Belkin has introduced multiple types of messaging services that allow users to send or receive email, voice mail, faxes, and mobile text messages through one IP-based portal, from any computer and web-enabled device. Belkin products are available through http://www.belkin.com as well as through a network of major distributors, resellers, and superstores.