Beamax X-series Dellegno Ascending Projector Screen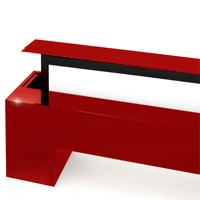 Beamax X-series Dellegno Screen
Stylishly integrating an 80" diagonal projection screen into a living room can be a real challenge. A discrete yet stylish solution is available immediately from Beamax® in the shape of the X-series Dellegno®. The electrically ascending projection screen is perfectly hidden in a Dellegno piano black, high gloss cabinet. This solution combines a living room friendly design with a true large screen experience. The X-series Dellegno retails at €1899 /$2699 / £1292.
A projector based home cinema solution is an ideal way to re-create a true cinema in your own living room. Having a projection screen in plain sight is not an attractive option for any carefully decorated room. Integrating a projection screen in a cabinet hides the projection screen when not in use. A seamless integration is assured as the cabinet can be finished in any color, at no additional cost.
The Dellegno cabinet is designed to blend in with almost any interior. The compact size will allow it to be integrated in small to medium sized living rooms or even bedrooms. Placing the projection in the cabinet on the floor saves valuable wall space. The cabinet is finished in a piano black, high gloss finish. Custom colors, finishes and sizes are available on demand. Custom colors are available at no additional charge.
The projection screen measures 80" diagonally in 16:9 aspect ratio, which matches small to medium size rooms. It comes with black borders, enhancing the perceived images brightness of the projected image. The matte white projection screen fabric with black back ensures a wide viewing angle.
Installation and operation is very easy. The projection screen and cabinet are delivered completely assembled and ready for operation. There's only one cable to be plugged into mains power and the screen is ready for operation. An infrared remote control is provided with the screen and allows it to be used with learning remotes.
The X-series Dellegno is available for order from Beamax retailers worldwide at €1899 / $2699 / £1292
From its main office in Belgium, Beamax screens are sold through authorised resellers world-wide. More information can be found on www.beamax.com.
About Beamax
Beamax specialises in projection screens for home cinema. From the award winning R-series manual pull down screens to custom made frame screens, the Beamax range of screens caters for every budget and situation.