Barix Introduces Exstreamer P5 Amplified IP Speaker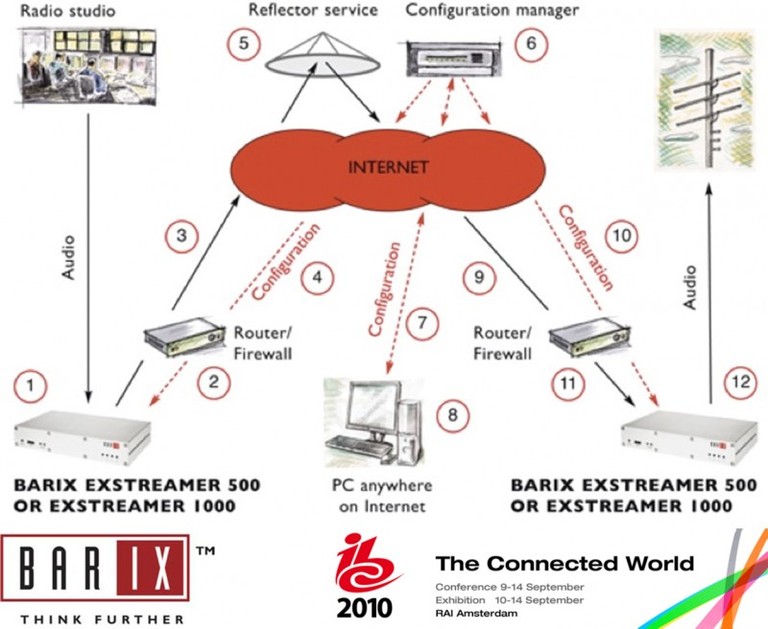 Barix Exstreamer P5 Amplified IP Speaker System
Barix AG is presenting a new IP Audio innovation that gives systems integrators and end users in professional and residential spaces the freedom to turn nearly any 8-ohm speaker into an IP speaker solution. At ISE in Europe, Barix is planning to show off the Exstreamer P5 amplified IP decoder for the first time. The Exstreamer P5 is an all-in-one solution for high-fidelity Audio over IP distribution, supporting universal IP standards including TCP/IP, RTP, SIP, Multicast and Ethersound.  The amplified device can directly connect 8-ohm speakers to an IP or Ethersound network, effectively extending the popular Barix Exstreamer product range into new environments for end users and systems integrators.
"The Exstreamer P5 gives integrators a way to install 'IP Speakers' without limiting their architectural and environmental options - including retrofits for legacy systems. For general applications, the biggest benefits are low-cost and flexibility.  You can IP-enable almost any speaker with this device, and establish addressability and monitoring down to the individual speaker in larger installations."
- Johannes G. Rietschel, CEO and Founder of Barix AG
The Exstreamer P5 operates reliably in high-temperature environments and enables zoning applications for multi-speaker systems, also allowing individual local/remote channel selection and volume control.  These features, along with exceptional, hi-fi audio quality and Power-over-Ethernet (PoE) capability to simplify deployments, make the Exstreamer P5 the perfect choice for overhead/ceiling speaker systems. Applications include:
Hospitality, including general and in-room systems for hotels, venues and cruise ships

In-store audio systems for retail stores, restaurants and other businesses

Residential multi-zone audio distribution

Background music and paging systems for office buildings and corporate facilities

Security applications, including PA playback points and SIP-based notification

Disaster warning systems, including earthquake and tsunami alerting
The Exstreamer P5 borrows design innovations, including PoE support and high-efficiency class D audio amplification, from the Barix Annuncicom range of two-way IP audio devices.  Its reliable operation in ceiling installations, ruggedized case and simplified mounting options draw inspiration from the recently-introduced Annuncicom 155 for the transportation industry.  The device can operate in temperature ranges of 32 to 131 degrees Fahrenheit (0 to 55 Celsius) and withstand storage conditions to 158 degrees Fahrenheit (70 Celsius). 
All Barix products are inexpensive, low-power devices that are scalable to the growth of the operation offer high reliability through a PC-FREE design with no moving parts; and serve as a flexible platform for integration into virtually and operation requiring audio transport and delivery over IP networks.  Barix also offers its programmable BCL standard open to all customers to easily customize applications for specific needs.  Local control, audio relay and low-latency streaming are a few examples of custom programs using Barix' BCL software environment.
About Barix AG
Barix AG, headquartered in Zurich Switzerland, specializes in the research and development of IP based communication and control technology.  Barix products are stand-alone and able to remotely connect worldwide over standard networks / Internet offering new and improved solutions to the professional audio distribution, communication and automation industries.  Barix products provide solutions in audio over IP (audio distribution and monitoring, communication, security) and automation (remote controlling, monitoring and maintenance).