Back to the Future with Cinema/DVD Glasses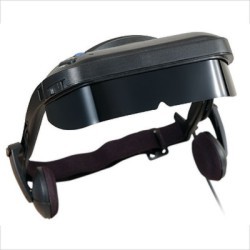 RICHMOND, Va., - For online shoppers seeking the latest electronic entertainment gadget, the merchandise innovators at firstSTREET introduce I-Scapes video glasses, a cool new high-tech product that allows you to watch movies and DVDs or play video games in the privacy of your own head.
This portable DVD headset weighs only 8 ounces and produces the effect of a virtual 70-inch screen viewed from 13 feet, simulating a real movie theater. Enjoy favorite movies and DVDs without disturbing others or indulge in hours of truly outrageous video game-playing over the holidays. Value-priced under $300, these videogaming glasses are another exclusive product marketed by firstSTREET.
Designed for maximum comfort, the I-Scapes video glasses feature an elastic band in the back, fully adjustable stereo headphones and foldable frames. Two full-color .7-inch liquid crystal displays support 230x173 lines of resolution comparable to a standard video camera viewfinder with 110,000 pixels per LCD panel. I-Scapes work with cable boxes, VCRs, DVD players and camcorders as well as the most popular video game systems.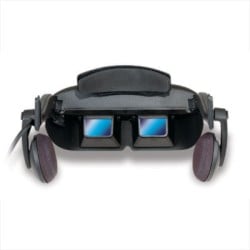 "Our I-Scapes video glasses make an ideal accessory for every home entertainment center," says Chris Fawcett, vice president and chief operating officer of firstSTREET. "Because the image is transferred into these DVD glasses via a video cable, the television screen doesn't need to be turned on. Therefore, I-Scapes enable adults and children to watch movies and play fun video games in the same room with others who might be sleeping or working, or who might want to watch something else on television. Also, this DVD eyewear greatly intensifies the overall viewing experience if you just want to feel more a part of the movie or video game."
Product Specifications:
2 full color .7 inch LCD panels
Equivalent to a 70 inch screen viewed 13 feet away
Field of view: 30 degrees each eye
Frequency response: 20Hz-20kHz
Weight: 8 ounces
Foldable frames
18 ft. RCA cable attached to glasses
Fully adjustable headphones; elastic headband
Resolution: 110,000 pixels per LCD panel
230 x 173 lines of resolution
Power on/off; volume up/down buttons
Audio: stereo RCA input
Video: signal channel RCA input
Input: single NTSC channel (not PAL compatible)
Power Supply: 110 AC input, 6V DC output
Power consumption: 3 watts
Details about the I-Scapes portable DVD glasses can be found at: http://www.firststreetonline.com/news/video_glasses.html
About firstSTREET
firstSTREET (formerly operating as TechnoScout), http://www.firststreetonline.com , is a one-stop source for everything you need to take advantage of the newest innovations on the market today. Headquartered in Colonial Heights, Va., firstSTREET's merchandising team has over four decades of experience in launching consumer electronics products to make life easier and more fun for nationwide audiences. Internet Retailer Magazine recently named firststreetonline.com to its "Best of the Web 2005," the Top 50 Retailing Sites.