B&W Introduces CM7 Floorstanding Speaker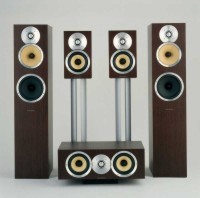 North Reading, MA - November 2006 - Britain's B & W Loudspeakers, known worldwide for its benchmark speakers for high-end audio and home-theater systems, has launched an exceptional new floorstanding loudspeaker, the CM7.
"The objective of the new CM Series loudspeakers," says Chris Browder, B & W's Executive Vice President, "is to deliver a range of models that provide improved music and movie performance, while preserving the simple form factor of the previous CM Series. The cabinets are constructed of heavy-duty, 3/4"-thick MDF baffles and utilize top grade, real wood veneers."
Launched in January 2006, both the CM1 bookshelf and CMC center channel speakers have found tremendous global success and have won the coveted EISA award (European Imaging and Sound Award) for best speaker for 2006-2007. The CM1 has found acceptance in a wide array of applications from traditional stand-mounted, two-channel music systems to placement in out-of-sight custom cabinetry for home theaters. These are small speakers-with a big sound!
Now B & W has added the CM7, a floorstanding speaker with increased bass extension and SPL capability to multiply the range of system options for consumers.
The CM7 is built on B & W's world-renowned technologies, and includes a 1" aluminum, tube-loaded, Nautilus™ style tweeter, a 5" FST Kevlar® midrange driver, a 6.5" paper/Kevlar bass unit, Flowport™ technology, and minimalist, first-order crossover design.
Although comparable in size to the previous CM4, the new CM7 delivers a true 3-way design as opposed to the 2-1/2-way design of its predecessor. Mid and deep bass are more clearly defined and better balanced.
The CM7 is available in the same three finishes as the CM1 and CMC: maple, rosenut and wenge (a dark wood that has become our most popular finish for the CM1).
Retail: $1,800/pair
Available: November 2006
About Bowers & Wilkins
Bowers & Wilkins (B & W) is Britain's leading exporter of loudspeakers, and is also the numberone imported brand in North America. Since 1966, B & W's "Quest for Perfection" has resulted in a succession of technical loudspeaker innovations that have satisfied the world's most demanding listeners. B & W's rave reviews and universal acceptance as the monitor for classical music recordings have helped B & W become the dominant premium loudspeaker company throughout the world.