Axiom Audio Announces EP400 DSP Subwoofer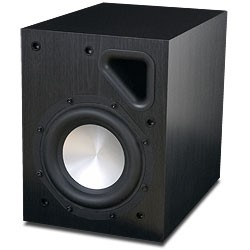 Axiom Audio EP400 in Black
DWIGHT, ONTARIO - March 27, 2007 - Axiom Audio, a world leader in quality loudspeaker manufacturing, today announced the latest addition to its world-class extended low frequency (XLF) intelligent DSP subwoofer line—one that satisfies the challenging need for amazingly low bass in smaller rooms. Just 13.75" (349.2 mm) high and 10.5" (266.7 mm) wide, Axiom's new Epicenter EP400 is small enough to fit virtually anywhere, yet big enough to generate an in-room SPL of 116 dB and low-end response of just 23 Hz—performance stats that rival larger subwoofer alternatives.
"The EP400 was produced to fill a specific need that was being requested of us over and over. This was to pack real subwoofer performance into the smallest possible enclosure," said Ian Colquhoun, president and chief designer of Axiom Audio. "It was not created to be a less expensive version of our EP500 subwoofer; in fact, if enclosure size is not a concern, then the EP500 is the way to go. What the EP400 offers is subwoofer response for the master bedroom or den that is as powerful as that in a home theater."
The EP400 (the EP stands for Epicenter, as in earthquake) features Axiom's intelligent Digital Signal Processing (DSP) technology. DSP—an Axiom exclusive—is a custom-designed programming algorithm that dynamically marries a driver with its digital signal over the driver's entire performance spectrum. The extraordinary result is unprecedented smoothness or "linearity", even at maximum output levels in the driver's lowest frequencies. It is virtually impossible to overdrive an EP-series subwoofer into distortion, even at its highest volume.
What's remarkable about the EP400 is how such clarity and depth can be packed into Axiom's shortest and narrowest subwoofer enclosure. Total in-room frequency response is 23-150 Hz; the speaker's onboard digital amplifier also generates 500 watts of power, equivalent to that of full-sized, premium-quality home theater subwoofers. Thanks to the speaker's DSP technology, the tough, long-throw 8-inch aluminum driver can generate maximum sound pressure levels at any planned frequency, with variances never reaching more than 1.5 dB.
The EP400 is small enough to fit under a bookshelf, beneath a bed, or within a nightstand. Used in combination with any of Axiom's compact bookshelf speakers (M2 v2, M3 v2 or M22 v2) or its "W" architectural series line of on-wall/in-wall speakers (W2, W3 and W22), the new EP400 creates a state-of-the-art system for movies, classical music, rock performances or other forms of entertainment that demand heart-pounding realism and fidelity.
Quick Specs:
Enclosure: Bass Reflex
Max Amp Power: 500 Watts
Crossover Adjust: 40 - 150 Hz
Phase: 0 & 180
Woofer Size: 8"
DSP Controlled: Yes
Line In and Out: Yes
Balanced Line In and Out: Yes
High Level In: Yes
Room Trim: Yes
Dynamic Power Supply: Yes
Anechoic Resp. +/- 1.5dB: 28 - 150 Hz
Anechoic Resp. +/- 3dB: 25 - 150 Hz
Room Resp. + 3dB/- 9dB: 23 - 150 Hz
Max SPL Anechoic: 106 dB
Max SPL In Room: 116 dB
Dimensions HWD inches: 13.75" x 10.5" x 16.8"
Weight (lbs) each: 48.55 lbs

Priced at $1,100 (USD), the EP400 is available in Black Oak, Boston Cherry, Light Maple or Mansfield Beech as standard in-stock finishes, with a wide range of custom vinyl or wood finishes available. Sales price includes all taxes and free delivery in the U.S., Alaska, Hawaii, and Puerto Rico; Canadians receive free delivery (sales tax not included). The speaker is now available for purchase; to learn more about the EP400 or to place an order, log on to the Axiom Audio Web site at www.axiomaudio.com.
About Axiom Audio
Axiom Audio has been designing, engineering and manufacturing award-winning high-end, high-value loudspeakers since 1980. The company's products feature transparent, wide-range sound developed through double-blind listening tests and extensive research. As a testament to its emphasis on quality design, Axiom Audio's loudspeakers have received multiple Product Of The Year honors from the Consumer Electronics Show as well as virtually every major audiophile media source. A 100% Internet-based company, privately-owned Axiom Audio services a worldwide customer base from its headquarters and manufacturing facilities situated in the unspoiled Muskoka district of Ontario. To learn more about Axiom, visit www.axiomaudio.com.