AV123 Redefines Budget Separates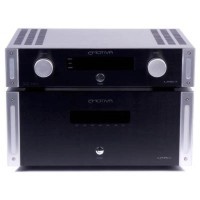 Just released, The Emotiva Ultra Theater Surround Sound Processor and Amplifier by AV123 open up a new level of performance on a budget.
The Emotiva Ultra Theater LMC-1 processor and LPA-1 amplifier have redefined the separate processor and amplifier landscape.
With top-quality design and construction, audio enthusiasts previously locked out of separates due to the high cost of entry will finally be able to experience their system as it was intended.
LMC-1 Processor Features:
Crystal Semiconductor based 7.1 Channel Dolby Digital, Dolby Digital EX, Dolby Pro-Logic II/IIx, DTS, DTS-ES, and DTS Neo:6 decoding
Audiophile-Grade 24-bit/192kHz DAC's
External HDMI Switcher Included
OSD (On Screen Display) for easy set up and calibration. Logical and easy to use. OSD is available on Component, S-Video and composite outputs
Automatic up-conversion of S-video and composite video sources to 480i component video
0.5dB resolution on the Master Volume and on all Level Trims
Second zone audio capability; can play audio sources independent of the main zone
Independent Delay Time Adjustment for the Centre, Rear Surrounds and Side Surrounds
Full-time digital down-mix for analog two-channel tape recording and second zone audio output from multi-channel digital sources
Full function custom IR remote control
Second zone IR remote capability
Internal 2 x 25 watt second zone power amplifier. Tracks the selected second zone audio source.
Optional second zone wall mount remote control panel with display of level and source select (requires 2 gang electrical box opening)
FM/AM tuner with 40 presets
HDMI - External Automated Switcher:
Easily connects to the Emotiva LMC-1 via 2nd zone audio data port to allow for switching between any two HDMI sources
Maintains 480i, 480p, 720p, 720i, 1080i and 1080p resolutions
High quality silver contact relays provide a high bandwidth, passive signal path
Additional manual control switch operation included
Supports cable runs of up to 50 feet
Three sets of HDTV compatible wide-bandwidth component video inputs with buffered outputs
Five sets of audio/video inputs, each with audio, S-video, and composite video
Two pair audio-only inputs
Eight channel analog audio input using RCA connectors for DVD-A, SACD, or other external multi-channel source
Digital audio (S/PDIF) inputs for four sources: three coax or optical and one coax only
RCA line level outputs for all channels
DSP based tone controls
User selectable crossover frequency for all speakers when set to small
8 DSP surround sound modes available
External trigger outputs and infrared inputs
Modular internal construction
2 RU chassis w/ solid milled aluminum faceplate
IEC power inlet, 120/230 VAC configurable.
17" W x 3 7/8" H x 13" D
Weight - 20.5 lbs.
Warranty: Five Years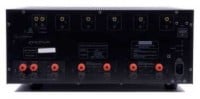 LPA-1 Amplifier Features
Class A/B
Audiophile quality seven channel multi-channel power amplifier
Six 125 watt channels of amplification (one channel configurable for two channel operation)
Low noise 1.2 KVA toroid power transformer
Complementary, discrete power amplifier design incorporating high current, high speed, Toshiba power devices
Channel status indicators for standby, operate, and fault
Configurable power output as follows: 125 watts/8 ohms x 6 channels or 125 watts/8 ohms x 5 channels plus 2 x 50 watts/8 ohms x 2 channels
Completely stable into 4 ohm loads
Rated Power Output: Channels 1-5 (All Channels Driven at 0.04%THD, 120vAC/ 60HZ supply) 8 ohm: 125 watts / 4 ohm: 225 watts
Channels 6-7 (All Channels Driven at 0.05%THD, 120vAC/ 60HZ supply) 8 ohm: 50 watts / 4 ohm: 95 watts
Frequency Response: +/- 0.1 db: 20 to 20Khz, +/- 1.0 db: 10 to 100Khz
Signal to Noise Ratio: (Un-weighted): > 100db
Distortion (THD, 80Khz bandwidth): Channels 1-5: < 0.040, Channels 6-7: < 0.052
Damping Factor: Approximately 200 into 8 ohms
Gain: Channels 1-5: 29db, Channels 6-7: 26db
Input Impedance: 47K ohm
External Trigger: 3-12 Volts DC (tip positive)
DC Offset: < 1mV
Crosstalk: > 75db
Power Requirements (All Channels Driven into 8 ohms): 1500 watts @ 120 volts AC, 60hz input
Power Consumption: Standby: 4 watts, Idle: 46 watts
Fully protected from all fault conditions
Soft start circuitry
External trigger turn on
Soft touch power switch
5RU chassis w/ solid milled aluminum faceplate
IEC power inlet, 120/230 VAC configurable
17" W x 7.75" H x 19" D
Weight - 63 lbs.
Built because of the lack of an affordable solution in this space and our desire for our customers to have the best auditory experience possible, the Ultra Theater combo priced $998-$1098 is sure to please those who have always wanted to get out of 'receiver-land'.
About AV123
Finding its home in Broomfield, Colorado, AV123 quickly rose to the top of the internet-direct entertainment market. Establishing itself through its products and service as the leader in high-end audio value and satisfaction, AV123 has gained a number of loyal and satisfied followers. Offering after-the-sale support rivaling even the best "mom and pop" retailers, AV123 has proven that the internet-direct sales model can be successful and satisfying for even the most discerning hobbyists.