Auralex Acoustics Introduces SonoSuede System at CEDIA 2006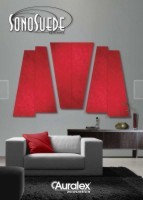 Denver, CO - Auralex Acoustics, the industry leader in innovative sound control solutions, introduces the SonoSuede HT System at CEDIA, booth #256. A highly decorative and complete do-it-yourself room treatment system ideal for home theater applications, the SonoSuede HT System tames reflections and low frequency anomalies.
Consisting of four 16"x48"x2" thick back-beveled panels and eight trapezoidal-shaped square-edge panels 16"x48"x1" for a total of 54 square feet of coverage, the SonoSuede HT System's distinctive design is a cost-effective solution offering a multitude of decorative options. Additionally, the system's unique mounting blocks provide superior acoustic and exceptional aesthetic benefits.
"As home theater audio and video technology continues to evolve, sound control solutions must continue to meet greater acoustical demands while concurrently maintaining aesthetic appeal," states Tracy Chandler, director of worldwide sales for Auralex. "The SonoSuede HT System's synthetic suede fabric provides the acoustical transparency and visual allure that are critical in today's home theater applications."
Priced at $1,199 suggested retail, the SonoSuede HT System is immediately available in the following stock color combinations: black/red; black/tan; and brown/tan. Other color combinations as well as individual panels are available as custom orders.
About Auralex Acoustics
Located in Indianapolis, Auralex Acoustics was founded in 1977 with a mission to provide the best acoustical treatment products at the best value. Since then, thousands of satisfied Auralex customers have experienced improved acoustics, solid advice and exceptional customer service. Auralex products enjoy widespread use among many prominent artists, producers, engineers and corporations.
Auralex Acoustics has become the industry leader in innovative sound control solutions and continues to enjoy rapid growth through an international network of authorized dealers. Visit the Auralex web page at www.auralexelite.com. Auralex can be reached via email at [email protected] or by calling 1.800.95WEDGE.