Audience Debuts ClairAudient The ONE Speakers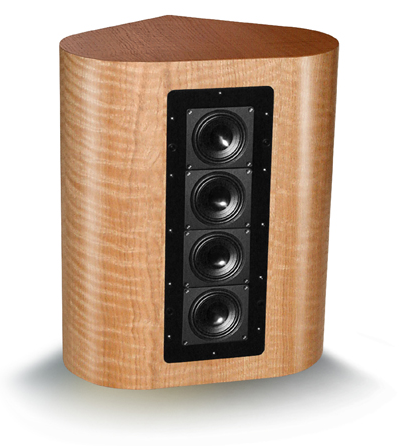 ClairAudient LSA 4+4
Audience will be introducing its ClairAudient The ONE single-driver loudspeaker and ClairAudient LSA Advance (Line Source Array) 4+4 bi-pole floor standing speaker at The Home Entertainment Show (T.H.E. Show) 2011. The new products will be demonstrated at T.H.E. Show 2011 as part of a complete Audience music system. The ClairAudient The ONE incorporates the same exclusive A3-S full-range crossover-less driver that is at the heart of every Audience ClairAudient loudspeaker, along with a purpose-designed passive radiator. The A3-S driver is a high power, 12mm excursion, ultra low distortion transducer that is full-range, instead of using a separate woofer, midrange driver and tweeter, and crossover network and the potential sonic compromises of sonically dissimilar drivers, phase distortions, loss of resolution and transient response degradation. The ONE is designed to deliver surprisingly expansive, dynamic and detailed sound from a desktop-style loudspeaker.
The ClairAudient LSA 4+4 Advance features four front-facing and four rear-facing A3-S drivers and two passive radiators in a floor standing enclosure, designed to convey the power and emotion of music with extraordinary clarity, warmth and resolution. Like The ONE, it will be available in a variety of striking, exotic wood veneer finishes and is designed, engineered and handcrafted in the United States.
The A3-S driver features a large patented neodymium-magnet motor structure and voice coil that moves with a highly linear excursion. It utilizes an exclusive rigid lightweight anodized aluminum-magnesium alloy cone material with a curvilinear shape. Other refinements include a concave dust cap that is specially designed to control high-frequency cone breakup and provide optimum dispersion; a patent-pending surround with a unique "S" shape that allows the driver to behave more like an ideal pistonic (back and forth) radiator; a rigid patent-pending basket (frame) that eliminates sonically degrading resonances, a spider (the circular piece that holds the driver's voice coil in place) that allows unrestricted cone movement and many additional enhancements.
The ONE will be demonstrated at T.H.E. Show 2011 as part of a complete Audience music system including the AdeptResponse aR6-TS and aR12-TS power conditioners, Wavemaster buffered autoformer preamplifier, prototype Wavemaster Class D monoblock power amplifiers, Au24e cables, Au24 powerChords and other components.
Pricing and availability for the Audience ClairAudient The ONE loudspeaker and the ClairAudient 4+4 Advance floor standing speaker will be announced at the show (but if you have to ask...)
About Audience
Audience was formed in November 1997 by John McDonald and the late Richard Smith, as a design and production company focused on building the best possible audio and video equipment. To pass the Audience test, each product must truly make a significant contribution to the reproduction of audio and/or video. Audience offers loudspeakers, electronics, cables, power conditioners, high-resolution capacitors and the Auric Illuminator optical disk resolution enhancement. Audience's commitment is to develop the very best products possible, and the company is committed to unexcelled customer service and product support. All Audience cables have an unconditional lifetime warranty and power conditioners have a ten-year warranty. For more information visit www.audience-av.com.
Hocky posts on January 04, 2011 16:33
Looks cool. I'll hear them in a few days, I guess. :-)
Post Reply