Audi A8 to have Onboard WiFi Hotspot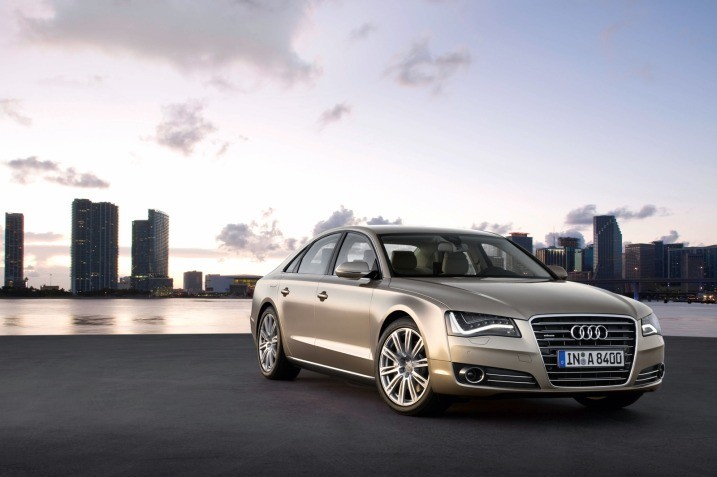 Audi A8 with Integrated Wi-Fi
Luxury car companies are rushing to integrate factory-installed WLAN hotspots into their vehicles, but the winner of the "most high tech technology no mere mortal can afford" award needs to go to the 2011 Audi A8 sedan. To say that Audi is advancing communications is an understatement. Last year, Chrysler started offering an in-vehicle Wi-Fi system in some of its cars and Ford took the covers off its "MyFord Touch" - a similar product. In all cases, the vehicle is slowly becoming an internet bridge of sorts, allowing mobile Wi-Fi products to work uninterrupted from the home to the office
With respect to the Audi A8, passengers riding in the front or back can get online through the car's integrated WLAN module and also via UMTS, the universal mobile telecommunication system (a 3G wirless system). In this way the system supports up to eight laptops, iPods,  iPads, or other wireless devices. The WLAN hotspot is activated, as you'd expect, by a data-capable SIM card which works directly with the Bluetooth online car phone, either as a dedicated plan or by using a compatible mobile phone with a SIM Access Profile. This means that those with an existing data plan can likely transfer over their account for use in the vehicle.
Audi says the system can support speeds of up to 7.2 Mbit/s. That's fast enough to handle anything from web surfing to streaming video and email. An antenna mounted on the roof of the Audi A8 handles reception from the car's own UMTS module.
Pricing hasn't yet been set, but the Audi A8's system is set to be an option. To compete it would seem that they;d have to go toe-to-to with Verizon & Sprint's MiFi 2200 and Overdrive 3G/4G mobile hotspot which is typically less than $100 with agreement and can be used anywhere there is cell phone access.
Wayde Robson posts on June 15, 2010 06:24
Preventing driver distraction is an important idea with many of these computerized car parts. Many of the features are disabled when the car is driving.
Check out more of what Audi has in store.
Audi A8 and Google Earth
westcott posts on June 12, 2010 20:10
Well, now I know who to follow on the interstate with my laptop in hand!!!
BoredSysAdmin posts on June 02, 2010 22:47
In other news, AT&T stops unlimited plans and charges $10 a Gig overage on 2gb a month plan. Wifi hotspot will really help to eat the 200mb/2gb limits in the blink of the eye….
Post Reply