Attention Deficit + Foul Economy = Interesting Future for Broadband Services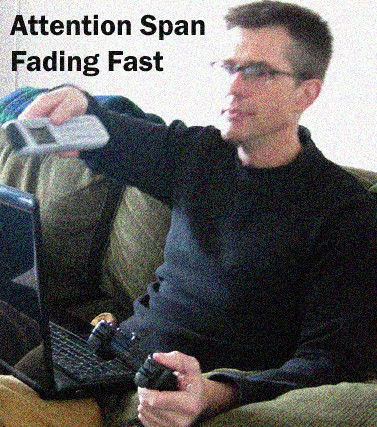 One of millions afflicted with media attention deficit
In-Stat has published some interesting research that attempts to peer into the crystal ball for broadband services. They say an increasing number of viewers are watching TV and surfing the Internet - at the same time! I'll do them one better when I add drinking a beer to watching TV while surfing the Internet. Check out In-Stat's conclusions about the future of broadband Cable TV and Internet services from all these living-room activities competing for your attention. 
If you're one of the millions of Americans that gets bored just watching plain old TV – you're not alone. Women everywhere may have mastered painting their toenails while watching TV years ago but now the rest us are catching up to their multi-tasking prowess with our Wi-Fi laptops connected to the Internet. 
I've been watching TV while surfing the net for years and I swear by it. What else are you going to do when you're watching 24 and you recognize what's-his-name from that Angelina Jolie movie The Changeling? A quick look on IMDB.com and you're going – that's his name, Colm Feore! 
In-Stat's survey says certain male demographics had 40%-50% of respondents saying they used a PC while watching TV. About 30% of females under the age of 30 are also surfing the web while watching the tube. The survey indicates that laptop PC technology coupled with TV is turning web-surfing into what In-Stats calls a "lean-back" experience.
That means we're getting so relaxed in our use of the web we don't even have to "lean-forward" to scream at pop-up ads anymore. We just kick back on the couch and curl up with a remote control and a laptop.  
But one of the results of this new-found comfort with streaming Internet in the living-room is a painful reminder to Cable companies that their business models might need an update. 
In-Stat's report says that Cable TV operators are facing "…increased competition from lightweight services that deliver popular Cable programming, supplemented by content delivered via broadband." 
What about that economic downturn? 
According to In-Stat, the sobering reality for Mobile, Broadband and Pay TV service providers is that the industry will contract by about $5 billion this year. While most consumers say they'll continue to spend "about the same" on the aforementioned services, about 15% said they'd cut back. Not surprisingly lower income households earning below $35K per year will cut back the most. 
But one segment of Internet services is expected to grow. Video! 
In-Stat has swirled these elements together and painted a picture of a marriage between online content and TV viewing experiences. The study even suggests that the market might force Cable TV providers to look at "…new hybrid "Lite" subscription TV services." 
It could mean an end to that outdated Cable TV subscription bundles that force us to pay for programming we don't want. It's an idea that Cable TV companies have dodged for years. Remember when the FCC mulled over the possibilities of a la carte TV back in 2005/06? 
Marc Gunther from Fortune had a good editorial on why unbundling TV programming made no sense (at the time). He likens a la carte programming to asking the newspaper to leave out the sections he doesn't want. He goes on to suggest it would be the end of many smaller Cable networks that already operate on a shoestring budget. 
A lot has changed since 2006. Let me tell you, a la carte programming is alive and well on the Internet. Newspapers across the continent are suffering because online aggregators like Google News let us do just what he suggested – leave out the sections we don't want. 
Free Market Solution 
The FCC doesn't need to force Cable providers into Lite subscription TV services, as it considered doing a few years ago. In-Stat indicates it's about to be a market necessity. 
And if it happens, don't fret over those charming
niche
networks like the Independent Film Channel, The Food Network and G4 TechTV. They might lose out on Cable TV programming packages but they could easily be reborn on the Internet.
GlocksRock posts on March 13, 2009 09:58
I do that too… drink beer while surfing the net on one monitor, and watching tv on the other monitor. I just wish for the price I pay for internet that I could either get more bandwidth, or they should just lower the price altogether.
Post Reply