Atlona AT-HD620 HDMI to Mini DisplayPort Converter Preview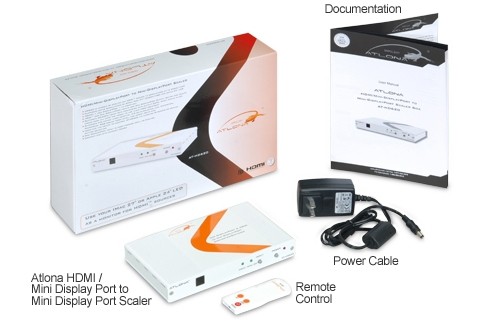 Atlona AT-HD620 HDMI to Mini DisplayPort Converter
Atlona Technologies today announced that the company is now shipping its AT-HD620 HDMI to Mini DisplayPort converter, which is capable of up-converting video signals to dual-link resolutions up to 2560x1440. For HDMI users, the unit solves compatibility issues with Mini DisplayPort displays, such as Apple iMac 27-inch or 24-inch monitors, by scaling any HDMI input to match their native resolution.


"The AT-HD620 caused quite a stir when it was first unveiled, and we are very excited to say that it is now available to our discerning customers. The AT-HD620 fills a gap in multiple applications, from boardrooms to video editing. Until now, a product designed to allow HDMI users to utilize the full dual-link resolution capabilities of Mini DisplayPort displays had been missing. We are happy to provide it."
- Joshua Carlson, director of public relations, Atlona Technologies
The AT-HD620 features an HDCP-compliant HDMI input, in addition to a Mini DisplayPort input that functions as a pass-through for Mini DisplayPort sources. The unit allows users to switch between the two inputs, enabling them to use both a connected Mini DisplayPort computer such as a MacBook Pro, Mac Pro, or Mac mini, as well as an HDMI source such as a PlayStation PS3, Apple TV, or Xbox 360.

The converter scales any resolution, including 1080p, to dual-link resolutions up to 2560x1440. Support for 3D motion video adaptive deinterlacing allows for the best possible image, while providing less than a single frame delay.
The AT-HD620 is available at an MSRP of $279.
About Atlona Technologies
Atlona Technologies is a global manufacturer of cutting-edge digital connectivity solutions. The company supplies an extensive range of high-quality products — from cables, splitters, and extenders to distribution amplifiers, converters, switchers, and much more — to a diverse client base spanning the consumer electronics, home theater, computing, retail, systems integration, professional A/V, broadcast, entertainment, medical digital imaging, and digital signage markets. Made from the finest materials and offering unique feature sets, the company's value-added products can be found in places such as the most prominent hotels in Dubai; NASA's Ames Research Center in Mountain View, Calif.; and across hundreds of thousands of home theaters across the globe. More information about Atlona Technologies is available at www.atlona.com.
victors posts on December 24, 2010 20:18
Atlona just released the DP300 for those who want to save money and don't need the MDP switching.

I got one and I can say first hand, it makes the PS3 look crazy sharp on a 24" Cinema display.
Post Reply